The Right Skills to Move Up the Economic Ladder
The surest way to open the doors to opportunity is to equip individuals with the skills they need to compete for well-paying jobs that are in demand. Yet as the global economy has fundamentally transformed our labor market, our approach to education and skill development has remained stubbornly static.
JPMorgan Chase is working to help right the system. Through New Skills at Work, New Skills for Youth and other initiatives, we are investing over $350 million to provide young people and adult workers with the skills and training they need to move up the economic ladder, while strengthening the talent pipeline employers need to compete.
Creating Next-Generation Data Resources
There are millions of good jobs in our economy for workers who have graduated from high school and completed some postsecondary education or training, but many of these jobs go unfilled. A powerful — and immediate — way to connect workers to opportunity is by providing data that shows where these jobs are and information about how to qualify for them.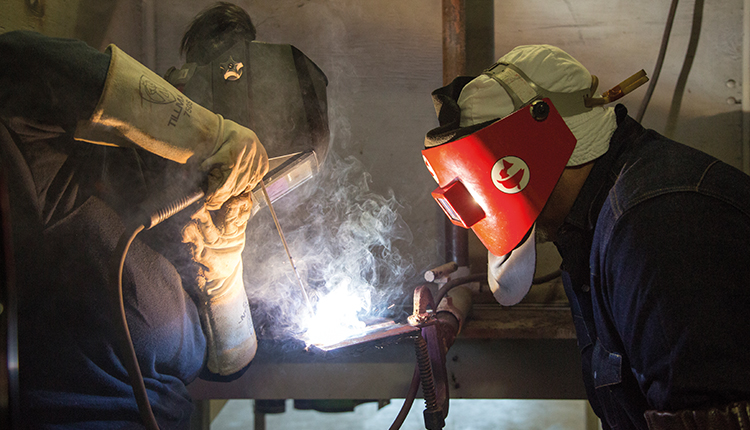 That's the idea behind the Good Jobs Index (GoodJobsData.org), which provides timely, localized data that debunks the myth that a bachelor's degree is the only ticket to a good job. Launched in 2017 in partnership with Georgetown University, the index is an interactive data platform that allows users to explore the entire U.S. labor market for jobs with median earnings of $55,000 per year that do not require a bachelor's degree.
Our firm is also supporting a range of practical, online tools that help jobseekers get on a career pathway in a particular industry. One example is our work with the Council for Adult and Experiential Learning to develop BankingOnMyCareer.com. Launched in 2017, the resource links New Yorkers to middle-skill financial services jobs.
We are also investing in data resources to help policymakers, educators and employers better align training and education programs with in-demand skills, such as our collaboration with the OECD to develop the Skills for Jobs Database.
We are supporting career readiness programs around the world, and sharing those insights
Providing Young People With a Pathway to Future Economic Success
Through New Skills for Youth, we are working to dramatically expand the number of young people who get the education and credentials they need for the well-paying, in-demand jobs of the 21st century.
For example, our partnership with the Council of Chief State School Officers and Advance CTE brings together government, business and education leaders to transform approaches to career-focused education. Through a national competition, 10 U.S. states — Delaware, Kentucky, Louisiana, Massachusetts, Nevada, Ohio, Oklahoma, Rhode Island, Tennessee and Wisconsin — were selected in 2017 to receive $2 million each in funding to expand and improve career pathways for high school students.
We are also supporting innovation sites through which the firm is helping cities test and scale promising ideas in career-focused education. In New Orleans, for example, New Skills for Youth is helping to bring a new approach to preparing students of the city's unique all-charter school system to get on a rewarding career path — a model that, if successful, could help guide schools around the country.
In addition, we are supporting career readiness programs around the world, and sharing those insights to inform approaches elsewhere. For example, we support the China Development Research Foundation's For the Bright Future initiative, which is working to provide students in vocational schools in four provinces across China with the skills to succeed in the workforce. In South Africa, we are partnering with local organizations to pilot approaches for vocational training in renewable energy, baking, merchandising and computing.
"We know that helping young people build skills and work experience while they're in high school leads to long-term economic benefits. Our aim in working with states to build career education programs that align with the needs of growing industries is to dramatically increase the number of students who graduate from high school armed with the skills to move up the economic ladder while at the same time strengthen the talent pipeline employers need."