Bunker Labs: Boosting Success for Veteran-Owned Businesses
Twenty-five percent of military veterans want to start a business when they leave the military. Yet many of them won't succeed. Todd Connor, a U.S. Navy veteran of the Iraq War, saw a potential reason why: Many veterans haven't built solid business networks — an essential ingredient for entrepreneurial success.
He founded Bunker Labs in 2014 to change this. The organization helps former service members and their spouses start and grow businesses through building online and in-person networks, learning business skills and connecting with resources. "We're part of a very niche community where there's a language, a lingo and a way of working," says Connor. "Veterans like the idea of being surrounded by other veterans who can help create connectivity in ways they otherwise wouldn't be able to do on their own."
Bunker Labs meets every entrepreneur where they are. For example, it provided a working space, networking opportunities and mentoring for Refill, a mobile marketplace for grocery stores and stadiums. For 3-D printer re:3D, Bunker Labs was critical in making introductions to strategic partners and corporate leaders. And the organization helped grow Veteran Elite Services — which provides cleaning and maintenance services and employs other veterans — through introductions to new clients, bankers, lawyers and insurance agents.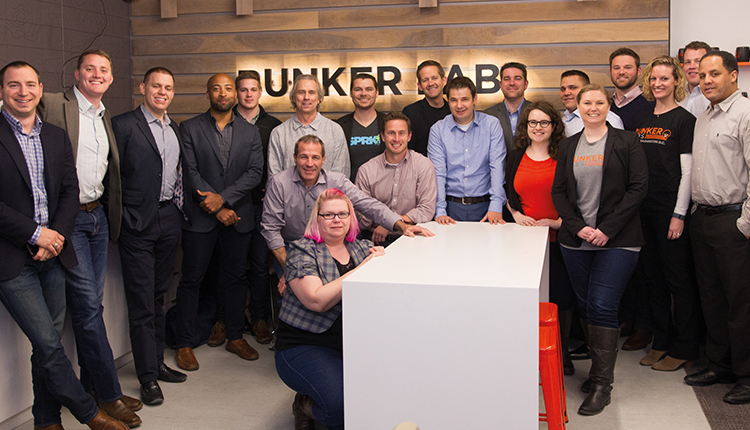 Over the past two years, JPMorgan Chase has committed $1.8 million to Bunker Labs. Among other things, the support is helping fund the Bunker Builds America Tour, a series of events held across the country showcasing local veteran entrepreneurs. The tour has enabled veterans and their spouses to connect in 10 cities, bringing together over 1,500 veterans and active duty service members and reaching more than 4.7 million people on social media. Over 250 veterans have pitched their companies through the #BunkerBuilds hashtag.
Now that Bunker Labs has expanded to 15 cities around the country, Connor is continuing to grow his company while supporting others to grow theirs. "The biggest challenge for most entrepreneurs is to convince themselves that they have the capacity to do what they want to do — and to get started," he says. "That's the thing I'm constantly trying to role model."
"Quite simply, veterans are a critical part of our nation's economic engine. When we invest in them, we all go further. By giving veterans greater access to capital and networking, JPMorgan Chase has gone to its strengths to offer innovative support of our transitioning service members. As a leader in this space, they have done so much for our veterans, and I hope other companies follow suit."
In addition to the firm's work with Bunker Labs, in 2017 JPMorgan Chase committed $4.2 million to organizations working around the country to provide veterans with financing to start their own businesses. Learn more about our firm's programs and initiatives to position military members, veterans and their families for success in their post-service lives at: www.jpmorganchase.com/veterans