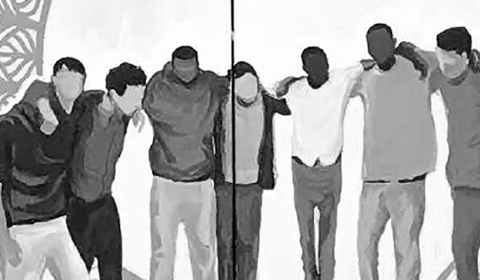 AdvancingCities
Investing in Opportunity, Chicago
What Are We Doing?
Chicago is a vibrant and dynamic city, but not every resident is sharing in the economic growth. Building on our more than 150-year history in Chicago, in 2017 we made a $40 million, three-year pledge to expand access to opportunity on the city's South and West sides.
We are proud to see that our investments are beginning to make a real impact in people's lives. Each person who has graduated from a training program and landed a new job, and each entrepreneur who has gotten financing to expand his or her business, is our true metric of success.
We know our efforts are only one part of the broader solution needed to address the decades of disinvestment, racial wealth divide, concentrated poverty and associated gun violence that are impeding the ability of too many Chicagoans to fulfill their potential. But by putting our model for driving inclusive growth into action — in collaboration with our deeply committed partners — we believe we are making a meaningful contribution.
Here are some of the ways we are making an impact:

Jobs and Skills
Equipping residents with the skills and training needed to compete for high-quality, in-demand jobs by partnering with Instituto del Progreso Latino to launch Instituto College, which will provide access to lower-tuition associate degrees, starting with nursing.

Small Business Expansion
Providing minority entrepreneurs with critical access to capital, education and other resources through the $5.5 million Chicago Entrepreneurs of Color Fund, launched by JPMorgan Chase with partners Accion Chicago and Local Initiatives Support Corporation.

Neighborhood Revitalization
Catalyzing development by providing critical seed funding for The Chicago Opportunity Investment Fund.
Extending our first AdvancingCities low-cost, long-term loan capital of $10 million to Chicago Community Loan Fund to support the preservation and development of local commercial real estate and to spur small business growth and local job creation.

Financial Health
Working with Neighborhood Housing Services to provide Chicagoans with financial coaching.
Transcript
[light music]

Jeremy: One of the most exciting things about robotics to me is the ability to create. To me that's awesome. I was working in the HVAC industry for about five years. You know, I'm working hard but I need more to support a family. The frustrating aspect of it was that I felt like I had to settle for positions that I knew my skill-set was better than. And through different things that happened I ended up with a felony. I made up in my mind that I'm not gonna allow this to hold me back. So, I actually heard about the BSD program through a family friend.
Trista: BSD stands for Building Self-Determination. The mission of BSD is to empower urban citizens with relevant work skills in robotics and industrial automation. The training program offers both certification, industry recognized credentials, as well as college credit.
Jeremy: I felt like, if I get into this industry, I can set myself up and not just be stuck here in this one space.
Trista: JPMorgan Chase has been a great partner since the beginning of our robotics training venture. It created a shine, I would say, for our residents in Chicago.
Jennie: We invest in communities around the world and job training and skill building is one of our four main areas of work here at JPMorgan Chase. What we're doing is really leveraging who we are as a firm to the benefit of the communities that we're working in.
Jeremy: After completing the training at BSD and being able to acquire a position working in the field, the benefits that I have from them - medical, dental, 401(k). Things that I did not have previously, I have in this position and it's exciting, you know, to be able to say, "Yes, I did that."
Trista: People are inspired when they see the success stories like Jeremy. He's been a ray of hope for a lot of our trainees at this time.
Jennie: There are Jeremies all around the world who are just looking for those insights, those opportunities and they're really creating new lives for themselves and their families.
Jeremy: I'm definitely proud of the role model that I can show to my children, that we're not gonna allow obstacles to keep us from being successful, keep us from achieving the dreams that we have. And most importantly, don't ever stop dreaming.
"A year ago, we lauded Chase's $40 million infusion into the South and West sides, largely because the bank's philanthropy had a proven track record in Detroit. [It is] a private sector-driven formula for community rebirth that we admire: Use an initial chunk of money to lay the groundwork for outside investors to see the payoff in revving up underserved markets. And do more than just dole out cash. Link up with proven community groups that know where the money can be best invested, block by block. …Chase has set a template for how corporate philanthropy can play a major role in neighborhood turnarounds."
The Chicago Tribune (Editorial) "How Chase Seeks to Seed Prosperity on Chicago's South and West Sides," Dec. 17, 2018
With JPMorgan Chase's $40 million, three-year* commitment
* Commitment made in September 2017.
2,857
people have participated in workforce programs
176
units of housing were created or preserved
5,341
people received services to improve their financial health
1,246
jobs were created or retained
1,319
small businesses received capital or technical assistance

Through our existing business efforts in Chicago, JPMorgan Chase:
Closed nearly $70m worth of deals through our Community Development Banking business in vulnerable neighborhoods since 2017.
Increased our minimum wage to $16.50/hour.
Opening a Door
Like many young people, South side native Floyd Wilson did not have a clear plan for his life. "After graduating high school, I really didn't know what I wanted to do," he says. "There were things I wanted to try but it never really worked out." That changed when Wilson, now 26, heard about BSD Industries at his church one day. "I feel like God just opened that door for me."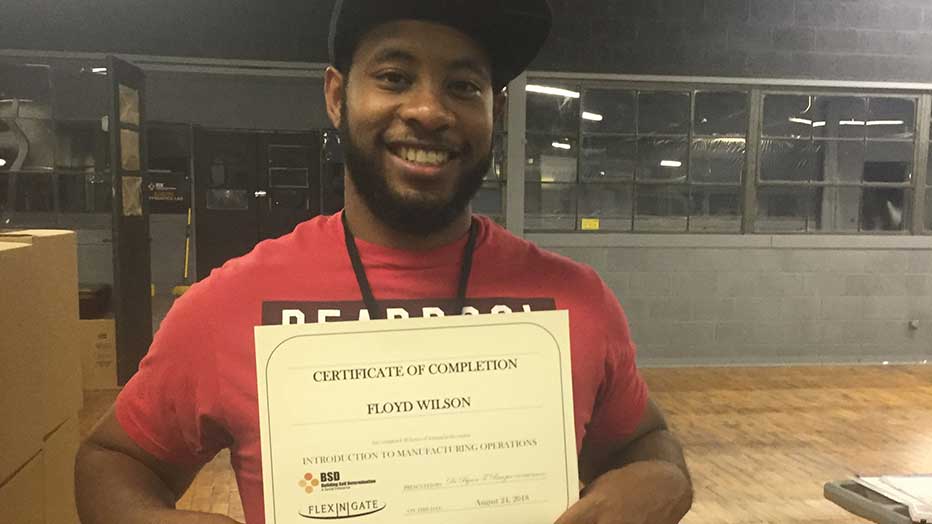 BSD Industries — a social enterprise of the Arthur M. Brazier Foundation that produces plastic products such as compostable cutlery — also operates a robotics technician training program that prepares trainees for jobs in advanced manufacturing. In 2017, JPMorgan Chase expanded our work with the Brazier Foundation with a $500,000 commitment to support the program.
It was 2015 when Wilson heard about BSD Industries. Fast-forward to 2018, and he was a member of the first cohort to graduate from BSD's workforce development program, trained in AutoCAD, industrial and electrical controls and robotics programming. He was excited to put those skills to work at his new job at automotive parts supplier Flex-N-Gate. "Robotics programming awakened something in me I never knew I had," says Wilson. "I can honestly say BSD completely changed my life."
Artisan entrepreneurs on Chicago's South side have the talent, drive and innovative ideas they need to succeed – and now they also have the space and institutional support that all entrepreneurs need. We're thrilled to partner with JPMorgan Chase to bring life-changing, hands-on training and mentorship to small business owners in this part of the city.
Theaster Gates Jr., Artist and Founder and Executive Director of Rebuild Foundation