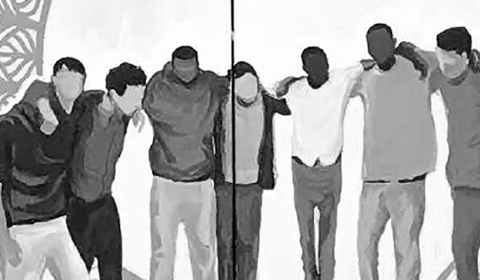 AdvancingCities
Seeding Innovation and
Amplifying Impact
AdvancingCities Challenge
AdvancingCities Challenge
Competition sparks novel solutions and encourages diverse stakeholders to join forces around a shared goal. We have seen this effect firsthand through competitions that are the hallmark of our Partnerships for Raising Opportunity in Neighborhoods (PRO Neighborhoods) initiative and the Financial Solutions Lab — and it's the driver behind the AdvancingCities Challenge.
Through the Challenge, we are inviting cities to compete for up to $3 million in each city to support innovative, sustainable solutions that help more people benefit from a growing economy. These ideas must offer unique ways to advance at least two of the four pillars that are at the heart of JPMorgan Chase's model for impact: jobs and skills, small business expansion, neighborhood revitalization and financial health. And they must demonstrate a collaborative approach that brings together the public, private and nonprofit sectors — an approach that is essential to solving complex challenges.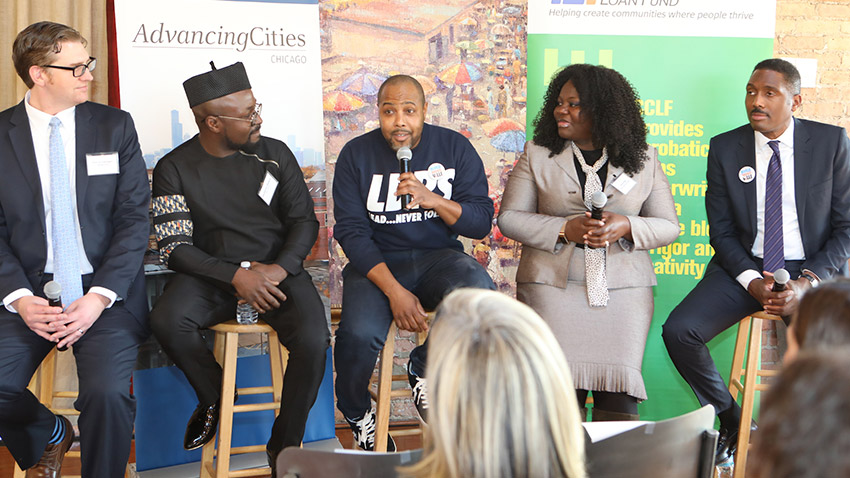 Our First Challenge Included:
45
U.S. states and territories
Flexible Capital
Through AdvancingCities, JPMorgan Chase will deploy up to $250 million as low-cost, long-term loan capital — combining our firm's philanthropic efforts with the lending and investing expertise of our Community Development Banking business. Our experience has shown that flexible capital, which can help bridge the gap between philanthropic and market-rate capital, is a key tool to attract additional investment and help more people share in the rewards of a growing economy. In Detroit, for example, the $40 million in low-cost loan capital we provided was leveraged by partner organizations to attract more than $233 million from outside investors.
The use of flexible lending capital creates a sustainable solution to fill unmet financing needs and help critical community projects — which often lack access to traditional financing — get off the ground. It also means that once the loans have been repaid, JPMorgan Chase and our partners can recycle and redeploy the capital back into the community, further amplifying our impact.
In December 2018, we committed $10 million in low-cost, long-term capital to the Chicago Community Loan Fund, our first flexible capital commitment as part of AdvancingCities. This low-cost loan will support the development and preservation of small businesses and commercial corridors on Chicago's South and West sides. JPMorgan Chase Institute research found that residents in these areas must travel greater distances to access everyday goods and services. The new low-cost, long-term capital will fill a critical need to strengthen and expand the area's small business sector, while also spurring local job creation.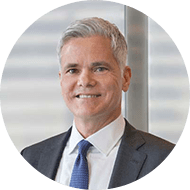 JPMorgan Chase supports our clients not just by providing the banking solutions they need, but by delivering the full force and capabilities of our firm. We take the same approach where we live and work. Combining our Community Development Banking expertise with our passion for helping our communities, flexible capital has filled a void in the market and will help drive inclusive growth.
Doug Petno, CEO of Commercial Banking, JPMorgan Chase & Co.
In Conversation
Cities as the Front Lines of Economic Inclusion
At the September 2018 launch of AdvancingCities, JPMorgan Chase invited three current and former mayors to talk about what it means — and what it takes — for cities to expand economic opportunity for their residents. Here are excerpts from the conversation.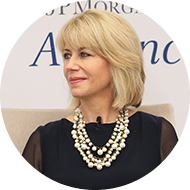 Ashley Swearengin
Former Mayor of Fresno, California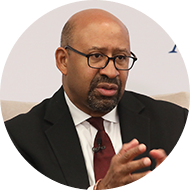 Michael Nutter
Former Mayor of Philadelphia, Pennsylvania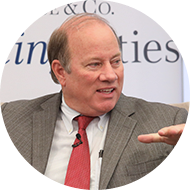 Mike Duggan
Mayor of Detroit,
Michigan
What are the biggest challenges facing cities today?
Clearly, inclusive economic development is the challenge of our generation. To me, there's no other headline that we need to be focused on in cities. For a place like Fresno, the question is how to get your arms around all the ways to create opportunity, and ultimately connect that to the residents who need it most.
Unequal access to opportunity, and the lack of resources to address it. Philadelphia is number one in a bunch of things, but unfortunately, we have the highest poverty rate of the 10 largest cities in the United States. We have educational challenges, homelessness and a variety of issues, and you never have enough resources. But cities are resilient and, more importantly, our citizens are resilient.
What are the keys to solving these challenges?
Public-private partnerships are so important. Government can't do it by itself. The Entrepreneurs of Color Fund is a great example. With the fund's help, we just celebrated the opening of the first sit‑down restaurant in Jefferson-Chalmers in 30 years. It's got African American ownership, in a formerly vacant storefront, in a neighborhood miles from downtown. This is the kind of inclusive development you can do with public-private partnerships.
Collaboration is absolutely key. It maximizes resources and improves outcomes. You see communities where leaders are willing to cross boundaries — political, geographic, whatever they are. That's a good sign of a community that's hungry for change.
What's your advice on successfully leading change in a city?
Take the drama out of it. We have enormous buy-in from the community because folks know that if they come in, they're not getting an "us versus them" situation. If you have your community unified, you're going to be successful.
Have a plan and do it all in a transparent way. People can see what's going on, and you're not going to make everyone happy. But you have to have a vision for where you're trying to go, provide leadership and take people with you.