Corporate Responsibility
Corporate Responsibility at JPMorgan Chase takes a robust, holistic approach to driving inclusive economic growth in communities around the world. Combining our philanthropy, research, policy recommendations and advocacy, while working with leaders at every level of government and business, we advance strategies to help move the needle on significant challenges affecting the communities we serve, from closing the racial wealth gap and tackling the skilled labor shortage to making the economy and communities more resilient.
At the core of our integrated model is a focus on outcomes. Bringing together our resources – including our expertise and community network – we work to generate solutions that benefit customers, communities and the economy at large. We see this in how JPMorgan Chase develops banking products, supports clients and communities, and powers the economy.
Promoting financial health. Far too many people lack access to the products and services they need to improve their financial health, including checking and savings accounts. To help close America's wealth gap, we looked to consumer data, social entrepreneurs and our long-standing community partners for insights, which influenced the design of products like Chase Secure BankingSM, an affordable and safe account option serving nearly 1.5 million customers, and Autosave, a tool used by 1.9 million consumers to simplify and automate savings. With nonprofits like the Cities for Financial Empowerment Fund, we helped establish national standards for products similar to Secure Banking so more people can access low-cost banking services. And with Autosave, we leveraged insights from the JPMorgan Chase Institute and collaborated with consumer advocates and community leaders to understand the most effective strategies to help even more customers meet their savings goals and set aside money for unexpected expenses like car repairs or medical bills.
Increasing access to economic opportunity. We believe that when communities thrive, businesses thrive. In Seine-Saint-Denis (SSD), just outside of Paris where 30% of young people live in poverty, we are putting our model to work to help spur economic growth. Nearly five years ago, we made a $30 million philanthropic commitment to support communities in Greater Paris, particularly in SSD. We started by collaborating with government agencies and nonprofits on skills training and small business growth, assessing and updating our strategy along the way. This effort reached people like Fatou, an entrepreneur who, with the assistance of our nonprofit partner Adie, learned how to win public and private contracts for her security company. She was able to get her business off the ground and grow her client network. Fatou is one of more than 6,700 entrepreneurs and 600 local businesses who have received such support in addition to the 23,000 SSD residents who have received necessary skills training to advance their careers. We are continuing to learn from the outcomes of our work in Greater Paris, coordinating closely with local policymakers and organizations as we plan to enhance our commitment going forward.
Supporting global growth and security. The war in Ukraine has upended millions of lives and created a significant shortage of energy supplies. Over the past year, we have worked closely with leaders across our company, clients and policymakers to navigate these unprecedented social, economic and energy security challenges. Once again, we are taking a comprehensive approach, informing business decisions to advance energy security and scale clean technology solutions while providing $10 million in philanthropic capital to address critical humanitarian needs and help launch career training and upskilling programs for Ukrainian refugees in Poland. And we are thinking toward the future, advising the Ukrainian government on its plan for a post-war recovery. This is a pivotal moment for the global economy, and we will continue to leverage our wide range of expertise and insights to navigate complex global dynamics.
Generating impact is a business imperative. Improving our products, strengthening communities, and supporting a more inclusive and secure global economy are inextricably tied to the success of our company. Even as we seek to manage uncertainty and market distress to promote a sound financial system, it remains the responsibility of both the public and private sectors to come together to identify solutions that will lead to greater prosperity.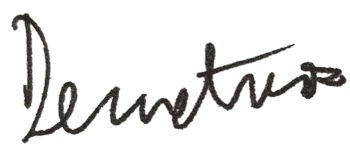 Demetrios Marantis
Global Head of Corporate Responsibility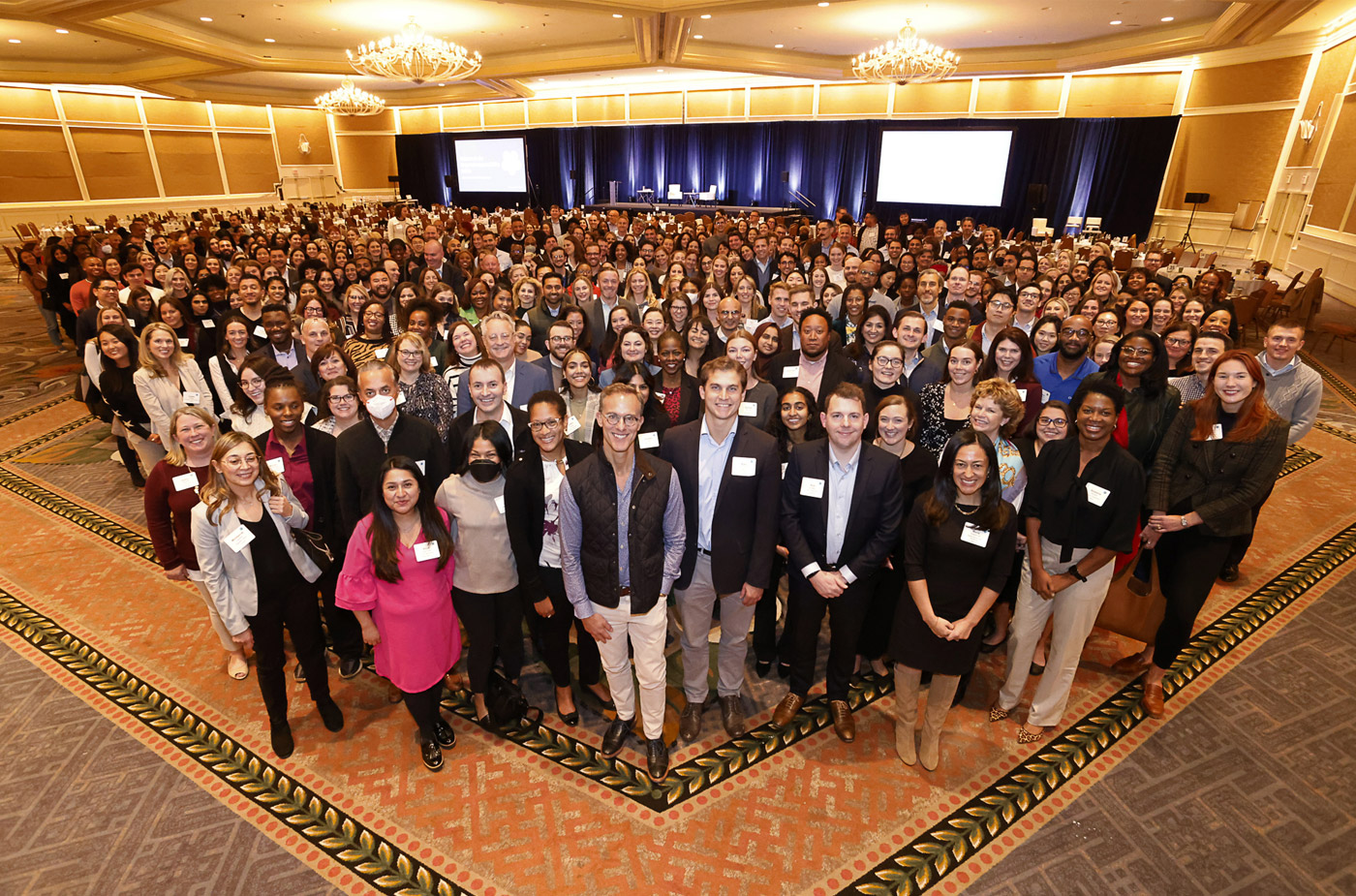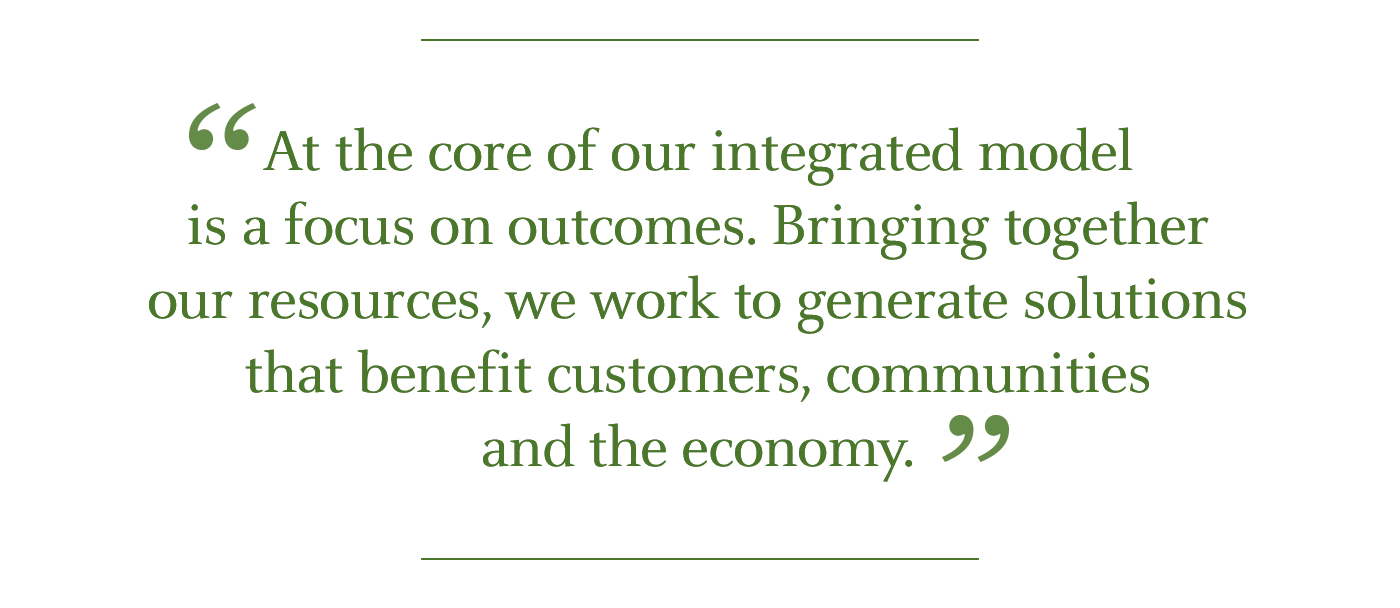 View Text Version ►
At the core of our integrated model is a focus on outcomes. Bringing together our resources, we work to generate solutions that benefit customers, communities and the economy.
In Corporate Responsibility, we aim to help strengthen the global financial system by supporting economic opportunity that is equitable and accessible. We help identify solutions to major global challenges thanks to the investments we've made to build a strong and sustainable company.
Every day, we apply what we've learned from supporting our customers and clients to help build more resilient communities. This approach allows us to focus on the ingredients essential for inclusive growth: jobs and skills training, small business growth, community development and financial health.
Here are some ways we bring the full force of the firm – combining our business resources, community and government engagement, philanthropic capital, data and expertise – to promote a stronger, more inclusive economy.
Safeguarding sound financial systems
The global economy is only as resilient as its financial systems. Around the world, we're working with policy groups, trade associations and regulators so we can extend loans, make capital investments and provide services that help people access more opportunities.
In 2020, we joined the Office of the Comptroller of the Currency's launch of Project REACh (Roundtable for Economic Access and Change), formed to identify and reduce barriers to full and fair participation in the United States' banking system and economy. We were the first major financial institution to launch an initiative to provide credit to customers with no credit history, and we have now approved credit cards for roughly 15,000 new-to-credit customers. This helps people to build credit scores and access lower-priced mainstream credit products, which could eventually include a mortgage – one of America's most important sources of generational wealth.
Accelerating climate and sustainability solutions
Across our company, we are taking measures to respond to the climate challenge against the backdrop of a global energy crisis. In December, we issued our Climate Report outlining how we are scaling green solutions to support our clients' business goals, investing in new clean energy technology that creates local economic growth and jobs, meeting immediate energy needs and minimizing our operational impact. In 2022, we financed and facilitated $197 billion toward our $2.5 trillion Sustainable Development Target: $70 billion toward green, $87 billion toward development finance and $40 billion toward community development. Through 2022, we have financed and facilitated $482 billion toward this overall target, including $176 billion toward our $1 trillion green target.
We also announced 2030 emissions intensity reduction targets for three new key sectors: iron and steel, cement and aviation. The aggregate of these new sectors, along with the sectors we announced in 2021, accounts for the majority of global emissions across both the supply and demand sides in the global energy system – a key consideration for advancing overall decarbonization and the global path to net-zero emissions.
We recognize that climate change has a domino effect on communities, with extreme weather impacting roughly one in 10 homes in the United States. In response, we're supporting programs that aim to scale climate-resilient affordable housing models, particularly in Black, Hispanic and Latino communities, including in rural areas. Our most recent $15 million philanthropic commitment will help produce or preserve more than 1,400 units of affordable housing, incorporating energy-efficient features and weatherization upgrades that offer protection against extreme weather and reduce utility costs.
Driving inclusive economic growth
Investing in the careers of tomorrow
As rapid changes in technology, automation and artificial intelligence alter career paths, it is imperative for companies like ours to transform how we prepare people to compete for well-paying jobs. Since 2018, we've supported the Dallas County Promise, a program helping Dallas County Public School students access postsecondary education opportunities at local colleges and universities. Today, more than 90,000 high school seniors in the Dallas area have benefited.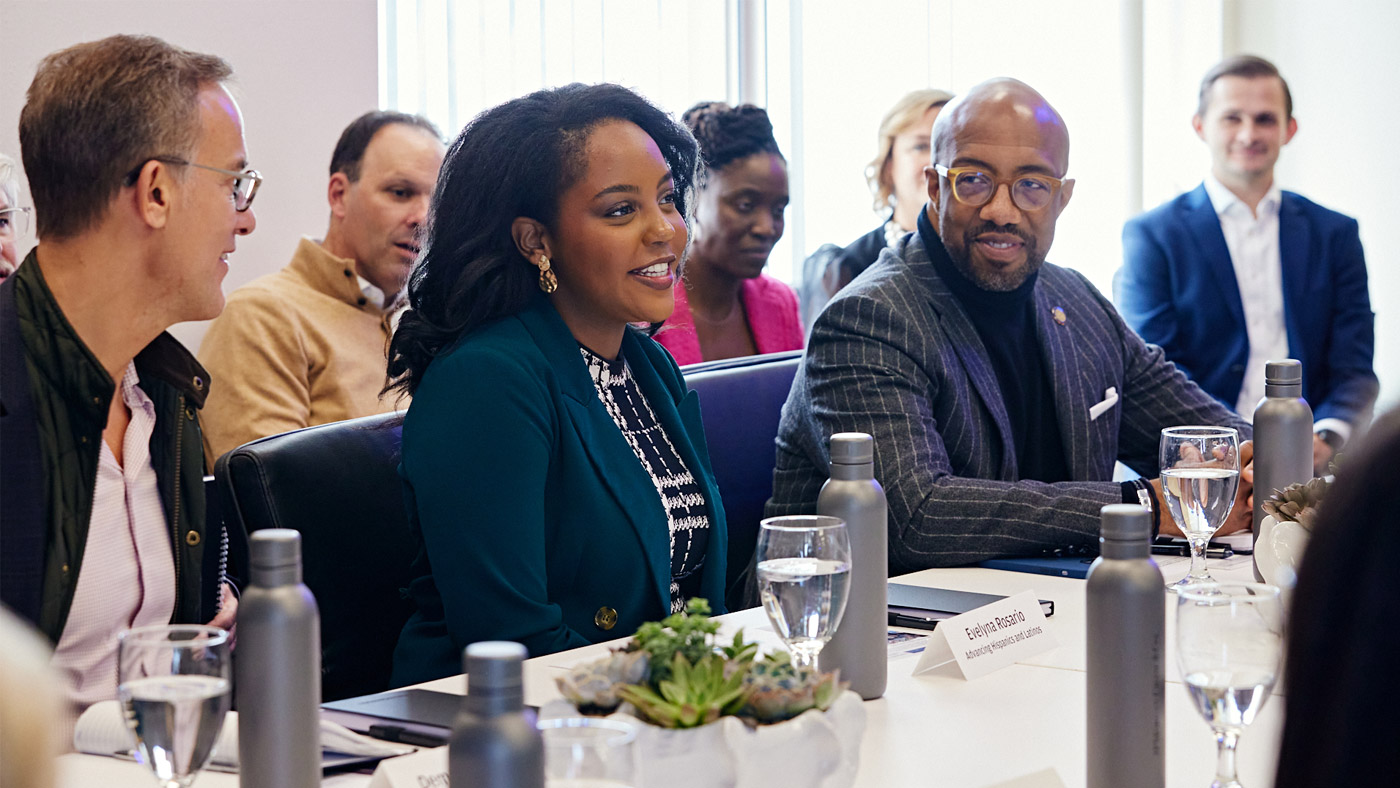 View Text Version ►
Evelyna Rosario, a Paul Quinn College alumna and current JPMorgan Chase team member, meets with JPMorgan Chase leaders including Demetrios Marantis, Global Head of Corporate Responsibility.
This model is being scaled across the state, with the potential to serve 5% of the nation's high school seniors. It is even influencing legislation to help districts prepare students for college and encourage high schoolers to apply for federal financial aid before they graduate. Supporting this impactful program is part of our five-year, $350 million commitment to equip people with the skills they need for the future of work and to meet the growing demand for qualified workers.
Supporting small business growth
Small businesses generate jobs and are vital to driving local economic growth. In the past year, we have assisted more than 26,500 small businesses around the world, helping them create or retain more than 54,000 jobs and increase revenue by over $129 million. Our employees have been central to this effort, committing 7,000+ volunteer hours globally through our Founders Forward small business mentorship program. The program pairs entrepreneurs with JPMorgan Chase team members to receive consultative support on various business challenges, covering leadership, financial modeling, e-commerce, marketing and more.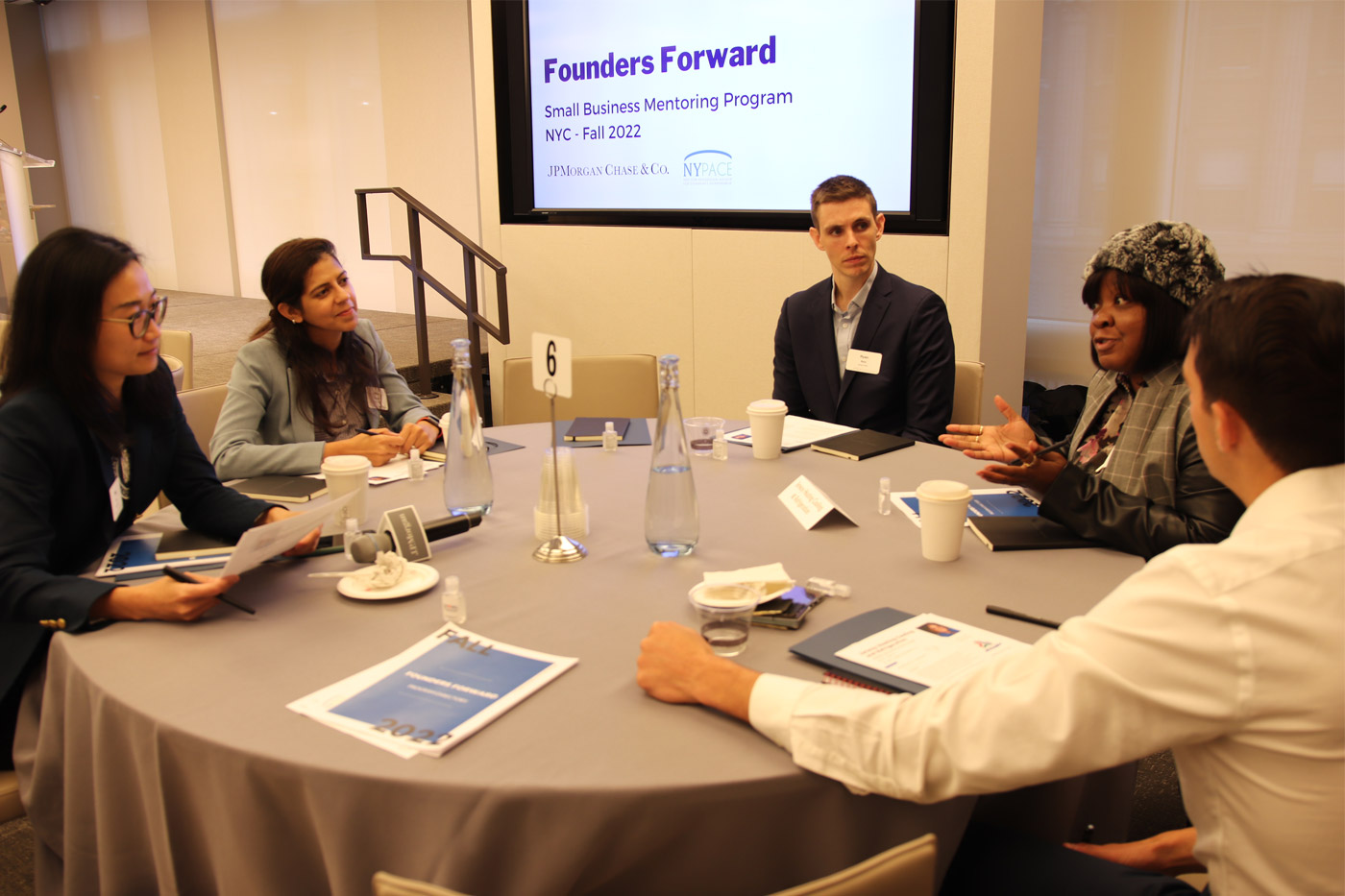 View Text Version ►
A group of Founders Forward mentors meets with a participating entrepreneur.
We also help entrepreneurs succeed through our support of Ascend, a nationwide program focused on developing customized growth strategies for small businesses. Eighty-nine percent of participating businesses are owned by people of color, and this year these businesses surpassed $2 billion in contracts. As a result of Ascend's specialized approach, participating entrepreneurs are able to focus on trainings most relevant to them. In New York City, for example, Salsa Hospitality CEO Daniel Garcia learned how to grow his executive team, plan for long-term business expansion and purchase a new facility to accommodate business growth, ultimately increasing sales by 56% in 2022.
Catalyzing community development
Economic opportunity is deeply rooted in neighborhoods. We saw this firsthand in Syracuse, New York, where a declining manufacturing sector contributed to an economic downturn, job loss and population decrease. As one of the inaugural winners of our annual AdvancingCities Challenge, a yearly competition that promotes community-driven solutions to advance local inclusive growth, we provided $3 million over three years and ongoing coaching to help drive technological development in the city's workforce, neighborhoods and small businesses and to boost its economy.
With our support, the city of Syracuse piloted and evolved its Community Investment Framework, ultimately attracting significant public and private sector investments. According to the city, these investments are creating nearly 50,000 jobs, generating almost $600 million in annual tax revenue for New York state and spurring an additional $500 million in public and private sector funding that will help scale opportunities and create economic growth for residents in Syracuse's underserved communities.
Promoting financial health and wealth creation
Policies, programs and products aimed at improving financial health are key to creating more inclusive economies. Through our support of innovative, inclusive fintech accelerators – the Financial Inclusion Lab, the Financial Solutions Lab and the Catalyst Fund – we are helping advance the financial well-being of underserved low- and middle-income populations. The Labs provide capital, mentorship and additional assistance to create scalable fintech solutions that enable communities to build wealth, save money and reduce debt.
In India, the Financial Inclusion Lab has supported 50 early-stage startups, serving more than 30 million consumers who need access to savings, credit and insurance services and raising over $80 million in follow-up funding to continue their work. In the United States, Financial Solutions Lab participants have helped more than 33 million consumers. And in emerging markets like Nigeria, the Catalyst Fund has supported 61 startups, helping more than 14 million customers build savings, learn to invest and more easily access credit.
Extending support in times of crisis
We show up for the communities we serve in both good and tough times. Over the last three years, we've contributed more than $33 million for disaster relief through corporate donations and employee personal donations. We've provided support to communities through hardships of all kinds, from catastrophic earthquakes in Haiti, Türkiye and Syria to the cost of living crisis in the United Kingdom and tragic violence in neighborhoods spanning the United States.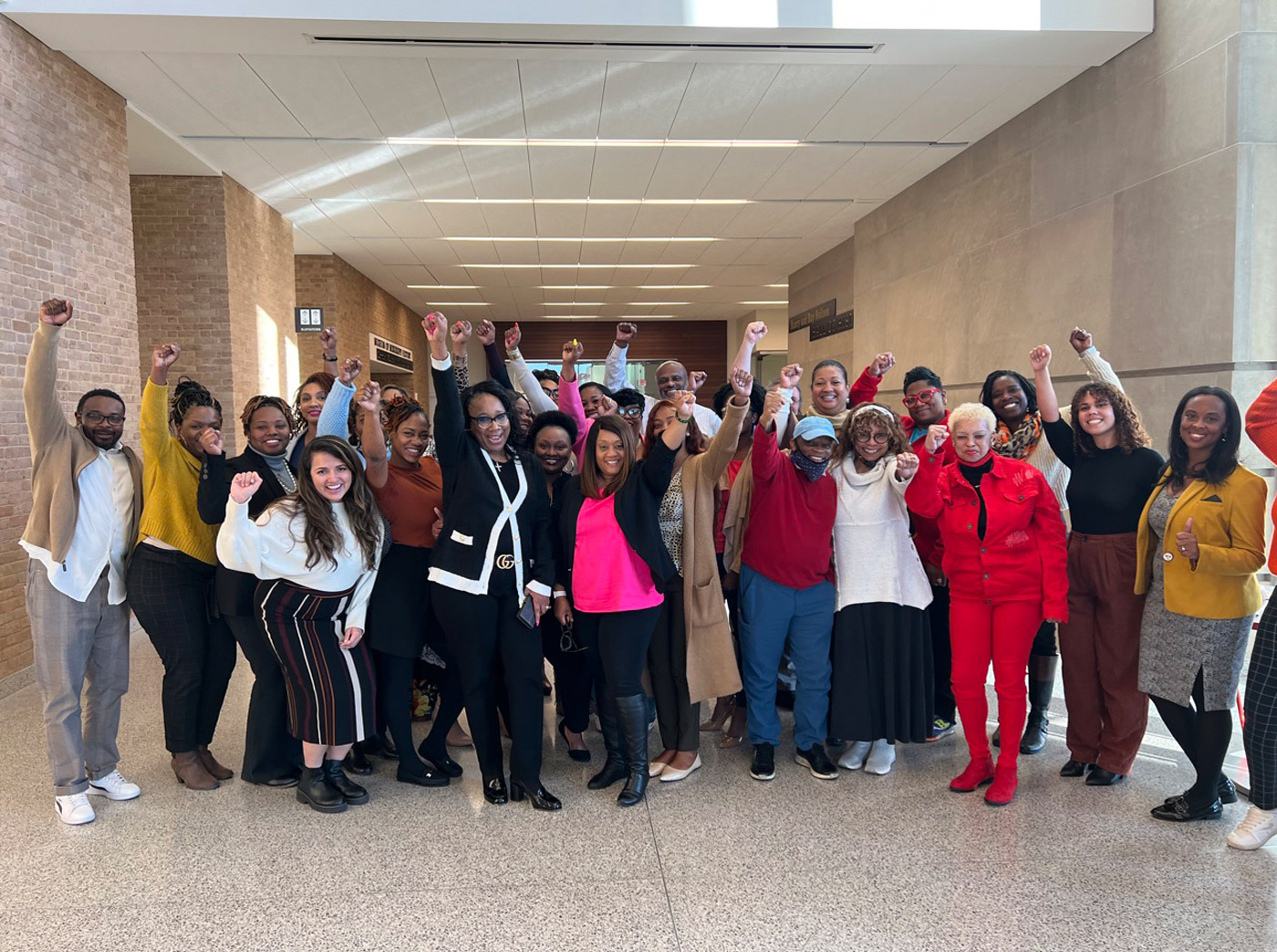 View Text Version ►
Facilitators and participants at a strategic communications training in Jackson, MS, following the local water crisis.
But in many cases, impacted communities need more than financial support. When Jackson, Mississippi, a city with more than 140,000 residents, experienced periodic water shutdowns and boil orders due to burst pipes and high lead levels, our team worked closely with community organizations responding to the crisis, hosting a local training for nonprofits working on recovery plans while also distributing resources like bottled water. This is just one example of how we're bringing our expertise and resources to Mississippi as our business in the state continues to grow.