Commercial Banking
In 2022, Commercial Banking (CB) remained focused on executing our long-term strategy—growing our client franchise, investing in our platform and capabilities, and empowering and enabling our teams. We continued to stand by our clients, delivering capital, advice and solutions to help them best navigate an uncertain market environment.
I'm incredibly proud of our results and the notable market leadership positions we achieved last year.
CB reported record revenue of $11.5 billion, net income of $4.2 billion and a return on equity of 16%. Our strong performance was largely driven by adding clients, expanding into new markets and maintaining higher deposit margins.
We had our third-best year for Investment Banking, with $3 billion in revenue.

footnote

1
Commercial & Industrial loans increased by 11% year-over-year.

footnote

2
Commercial Real Estate loans grew 7% year-over-year.

footnote

2
Credit performance remained strong, with net charge-offs of 4 basis points.
Our business continues to perform extremely well in a complex and competitive environment. The sustained investments we're making across our franchise are accelerating our organic growth, and our success is compounding. This letter will give you a window into our business and the tremendous runway that lies ahead.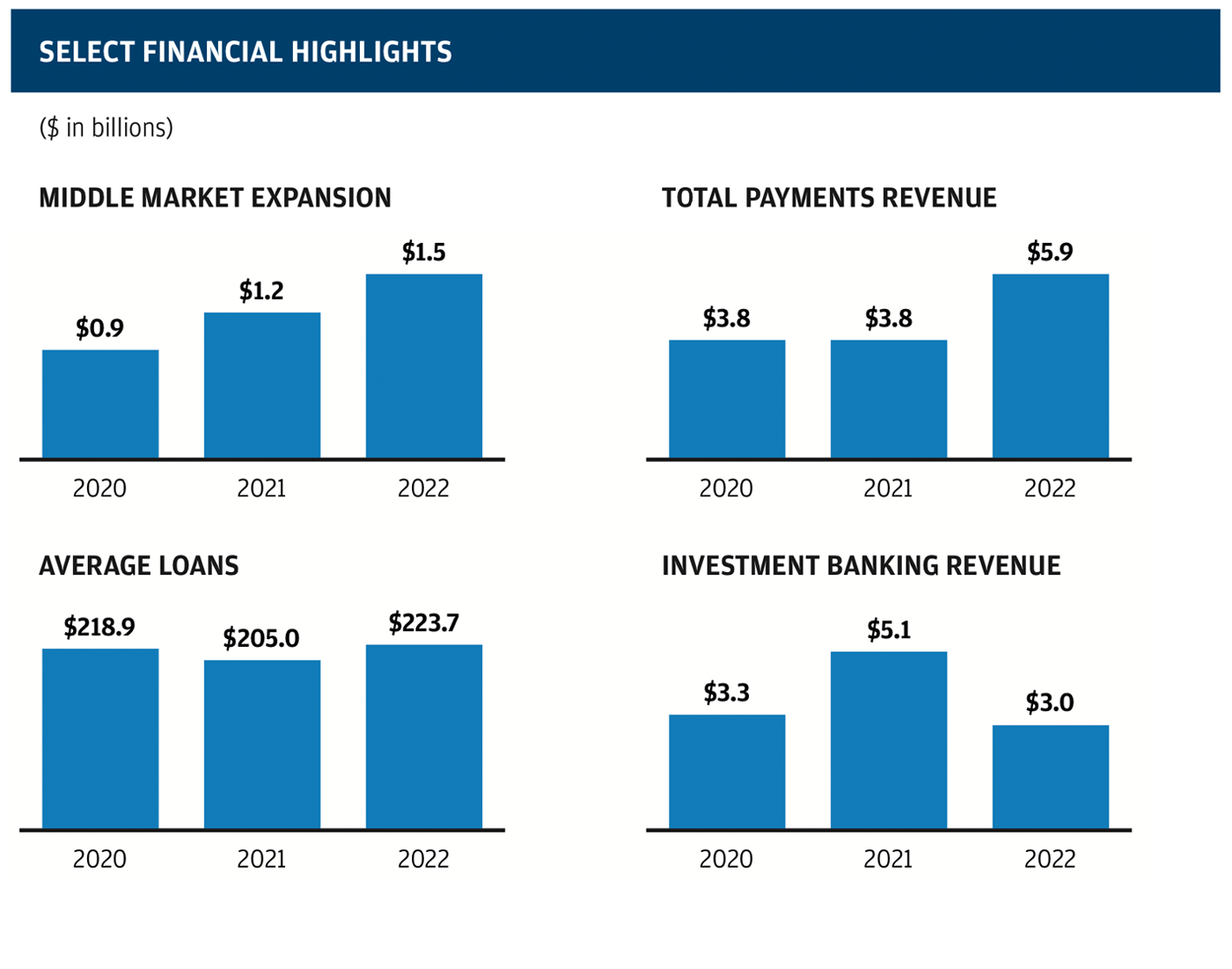 View Text Version ►
Image of four bar graphs with blue bars
Bar graph 1 on the top left: Middle Market Expansion. 2020: $0.9 billion. 2021: $1.2 billion. 2022: $1.5 billion.
Bar graph 2 on the bottom left: Average Loans. 2020: $218.9 billion. 2021: $205.0 billion. 2022: $223.7 billion.
Bar graph 3 on the top right: Total Payments Revenue. 2020: $3.8 billion. 2021: $3.8 billion. 2022: $5.9 billion.
Bar graph 4 on the bottom right: Investment Banking Revenue. 2020: $3.3 billion. 2021: $5.1 billion. 2022: $3.0 billion.
Serving more extraordinary clients
CB's strategy is anchored on being our clients' most important financial partner, and we do this by delivering the expertise and capabilities of our global firm locally. In 2022, we continued to extend and deepen our reach by growing our U.S. and international footprint, enabling us to increase our addressable market and serve more exceptional clients around the world.
We expanded to five additional U.S. states and four new countries:
In the United States

, CB established a presence in Idaho, Montana, Nevada, New Mexico and South Carolina and is now in 78 of the top 100 metropolitan statistical areas, with a potential to cover more than 48,000 prospective clients.

We achieved a significant milestone in 2022

when we became the first bank able to accept government deposits in all 50 U.S. states, allowing us to bring our services to more local governments and their residents.

Outside the United States

, we expanded into Denmark, Finland, Norway and Sweden and now have 80 bankers calling on more than 2,000 prospective, non-U.S.-headquartered clients in 24 countries.
We're thoughtfully growing our team to support several high-potential opportunities:
We've maintained our focus on middle market companies with revenue less than $100 million

and added bankers to serve more than 12,000 companies in this important segment, doubling our client relationships since 2018.

Both in the United States and EMEA

, we continued building our Green Economy and Innovation Economy teams to provide tailored support to these critical sectors that are advancing economic growth and sustainability. CB is well-positioned to serve clients from startup to IPO and beyond, partnering across the firm to provide a full suite of capabilities, including capital raising, strategic advisory and a differentiated set of digital solutions.

We created a new team of bankers

across 20 U.S. cities that is focused on understanding and supporting the unique journeys of diverse, women and veteran business owners and working to help their businesses grow and succeed. The community impact from this team has been very positive, and we are looking for more ways to serve this important segment of our economy.

View Text Version ►
Four icons, each with a number and text below.
Icon 1: A bar graph with an upward-trending arrow. Description: $11.5B, total revenue.
Icon 2: A dollar sign with arrows circling around it. Description: $5.9B, total payments revenue.
Icon 3: Two hands shaking. Description: ~2,300, client acquisitions.
Icon 4: A piece of paper with a dollar sign on it. Description: ~$224B, average loan balances.
Championing our clients' success with powerful solutions
Our ability to deliver JPMorgan Chase's full suite of solutions remains a key competitive advantage. In 2022, we continued to make significant investments in our capabilities, innovating to drive even more value for our clients.
We're offering new, simple digital banking platforms

and integrated payment solutions to help clients run their businesses more effectively.

In collaboration with our CIB partners

, we're providing clients with a more complete and competitive set of financing alternatives with the addition of our new direct lending offering.
We introduced Story by J.P. MorganTM, our all-in-one property management tool that offers multifamily property owners and operators valuable data, insights and an intuitive rent payments platform to best manage their real estate assets.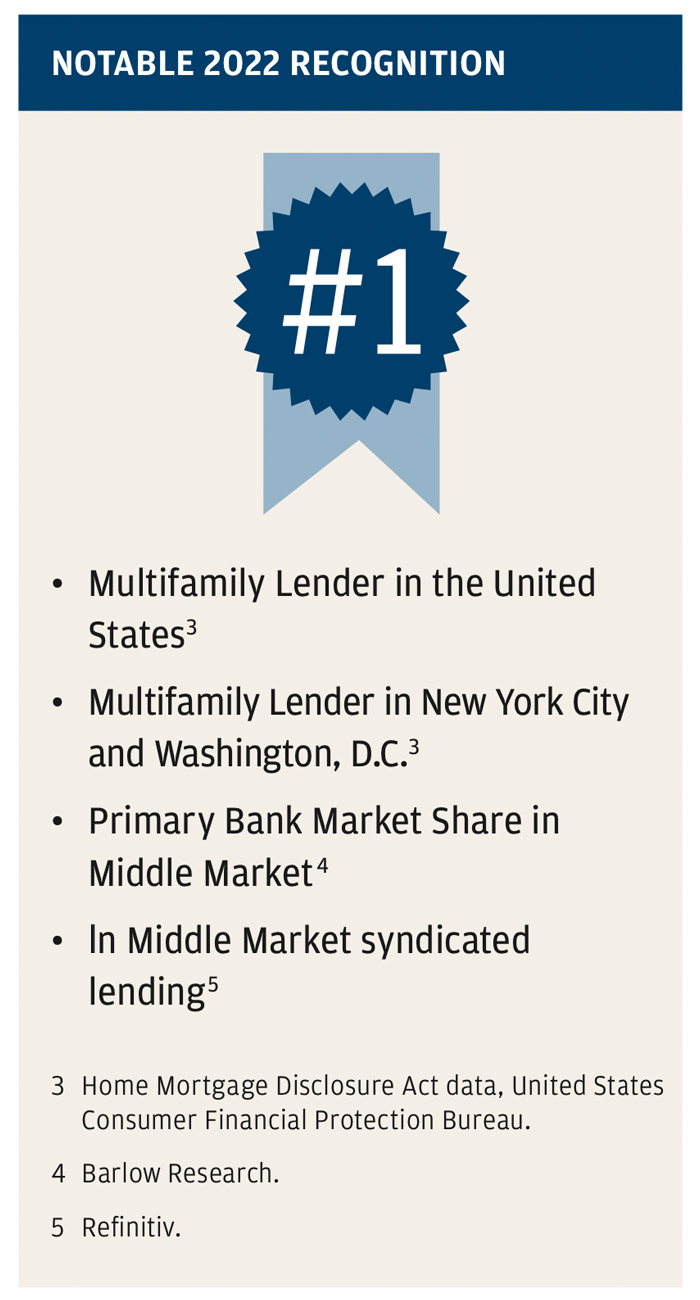 View Text Version ►
Image of a "#1" blue ribbon at the top. Below, four accolades are listed out:
#1 Multifamily Lender in the U.S. (source: Home Mortgage Disc?J[?losure Act (HMDA) Data, United States Consumer Financial Protection Bureau)
#1 Multifamily Lender in New York City and Washington, D.C. (source: Home Mortgage Disclosure Act (HMDA) Data, United States Consumer Financial Protection Bureau)
#1 in Primary Bank Market Share, Middle Market (source: Barlow Research)
#1 in Middle Market syndicated lending (source: Refinitiv)
Investing in technology and data to optimize our business
We continue to make excellent progress in building a truly data-driven business, using our unique assets to enhance our operating processes and deliver valuable insights to both our teams and clients. The impact from this effort has been quite exciting, and the investments we are making will drive tremendous benefit for years to come.
CB continued to scale and optimize our cloud-based data platform

and expanded our team of data scientists to help unlock even more value and embed business intelligence into all we do.

Our robust customer relationship management platform and collaboration tools

promote connectivity across the firm, enabling us to serve clients with greater precision and foster new relationships.

Using insights from our operating data

, we markedly improved client satisfaction scores by enhancing and streamlining both our onboarding process and client service experience.
Deepening our focus on community impact
While growth and innovation are essential to CB's success, perhaps just as important is our focus on being a purpose-driven business. Our firm has long championed the essential role of banking in a community, a concept that is deeply woven into the strategy and culture of our franchise. In CB, we are using the power of our business—doing what we do best every day—to drive real outcomes in our communities.
Across our local markets, our teams deliver critical resources, specialized expertise and tailored solutions to help communities thrive. Collectively, in 2022 CB financed:
$19 billion in credit to vital institutions

—such as hospitals, schools and governments—that are critical to the health and vibrancy of our communities

footnote

6

$12 billion to create or incentivize the preservation of more than 95,000 affordable units

to help thousands of families access stable housing

$300 million in New Markets Tax Credit investments

to support projects such as health clinics, grocery stores and job training facilities

$670 million in loans to Green Economy clients

to help accelerate decarbonization
Together with our exceptional clients and colleagues across the firm, we're working to advance an inclusive economy, support local and diverse businesses, and create a sustainable future for the places we call home.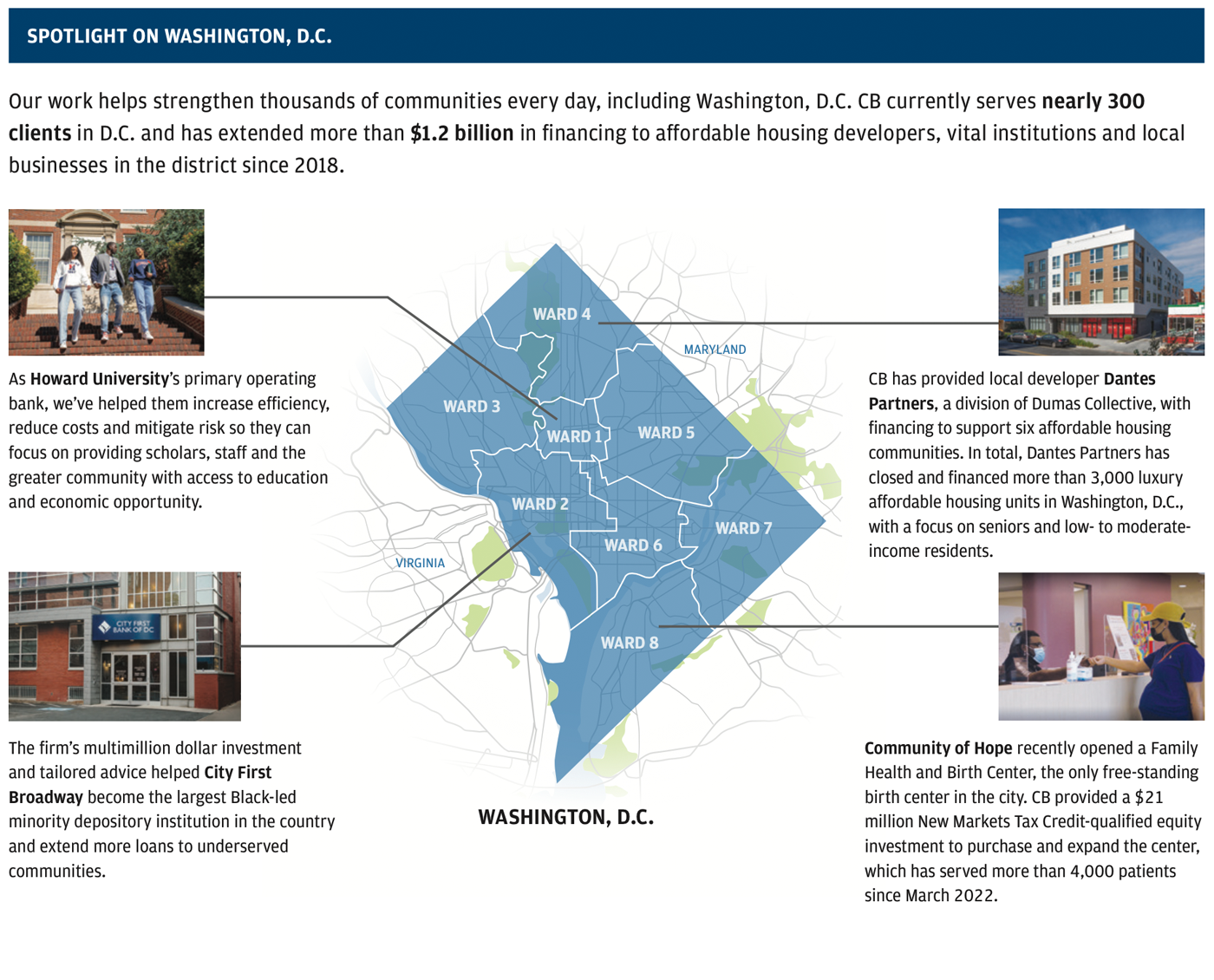 View Text Version ►
Map of Washington, D.C. in the background. Examples of four CB clients are shown around the map, linking each photo and description to the map using black lines.
Overall description: Our work helps strengthen thousands of communities every day, including Washington, D.C., where CB currently serves nearly 300 clients and has extended more than $1.2 billion in financing to affordable housing developers, vital institutions and local businesses since 2018.
Client #1: Howard University: photo shows three African-American college students walking down the steps of an academic building. They are dressed in jeans and collegiate jackets.
Description: As Howard University's primary operating bank, we've helped the university increase efficiency, reduce costs and mitigate risk so they can focus on providing scholars, staff and the greater community with access to education and economic opportunity.
Client #2: City First Broadway. Photo shows the exterior of a City First Broadway bank branch.
Description: The firm's multimillion dollar investment and tailored advice helped City First Broadway become the largest Black-led minority depository institution in the country and extend more loans to underserved communities.
Client #3: Dantes Partners. Photo shows the exterior of a four-story modern apartment building.
Description: CB has provided local developer Dantes Partners, a division of Dumas Collective, with financing to support six affordable housing communities. In total, Dantes Partners has closed and financed more than 3,000 luxury affordable housing units in Washington, D.C., with a focus on seniors and low to moderate income residents.
Client #4: Community of Hope. Photo shows the check-in desk of a health clinic. A pregnant African-American woman in casual clothes checks in for her appointment with a man seated behind the desk.
Description: Community of Hope recently opened a Family Health and Birth Center, the only free-standing birth center in the city. CB provided a $21 million New Markets Tax Credit-qualified equity investment to purchase and expand the center, which has served over 4,000 patients since March 2022.
Looking forward
While we're incredibly proud of our 2022 results, we aren't standing still. 2023 is proving to be another complex year, and we have a responsibility to be a source of strength and stability, especially in uncertain times. As such, we remain prepared for a wide range of economic scenarios with our core tenets in clear view:
Partnering

across our firm to deliver value for our clients and communities

Maintaining

our credit discipline and client selection standards

Consistently investing

in our people, platform and capabilities
Thus far, 2023 has only reinforced my confidence in our people, who have proved that they will rise to any challenge. I'd like to express my sincere gratitude to the entire CB team, as well as our partners across the firm for their dedication, teamwork and client focus. I'm incredibly proud to work alongside all of them.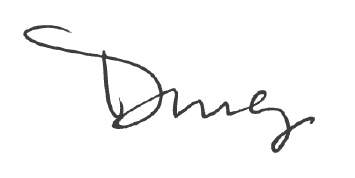 Douglas B. Petno
CEO, Commercial Banking
Represents total JPMorgan Chase revenue from investment banking products provided to CB clients.
Commercial and Industrial and Commercial Real Estate groupings for CB are generally based on client segments and do not align with regulatory definitions.
Includes new credit commitment originations and existing credit commitments that experienced a major modification during 2022.