Commercial Banking
Across JPMorgan Chase, we measure our success not just by our financial results, but by our ability to make a positive difference for our clients, employees, communities and shareholders. Over the last several years in Commercial Banking (CB), we've been executing a consistent, long-term strategy focused on doing just that.
Our shareholders: Investing for long-term value
Strong 2019 financial performance
To create value in CB, we work hard every day to add great clients and deepen those relationships over time. We've been making sustained investments in our people and capabilities to drive results across our business. In the last two years, we've hired more than 300 bankers and expanded our presence to 24 high-potential locations. These investments have led to more client activity than ever before, and in 2019, we added over 1,700 new client relationships, a 60% increase since 2017.
Our intense client focus and disciplined execution have resulted in consistent strong financial performance across our business. In 2019, CB generated $9.0 billion in revenue, $3.9 billion in net income and a return on equity of 17%. While our overall results were affected by lower interest rates, the fundamentals of our business remained outstanding, with record Treasury Services fee revenue of $1.5 billion and steady loan and deposit growth. We continued to benefit from our strong partnership with the Corporate & Investment Bank, delivering record investment banking revenue of $2.7 billion, up 10% from 2018.
Our credit discipline has served us well, and by maintaining our strict underwriting standards, our net charge-off rate in 2019 was 8 basis points. This marked the eighth straight year in which net charge-offs were less than 10 basis points.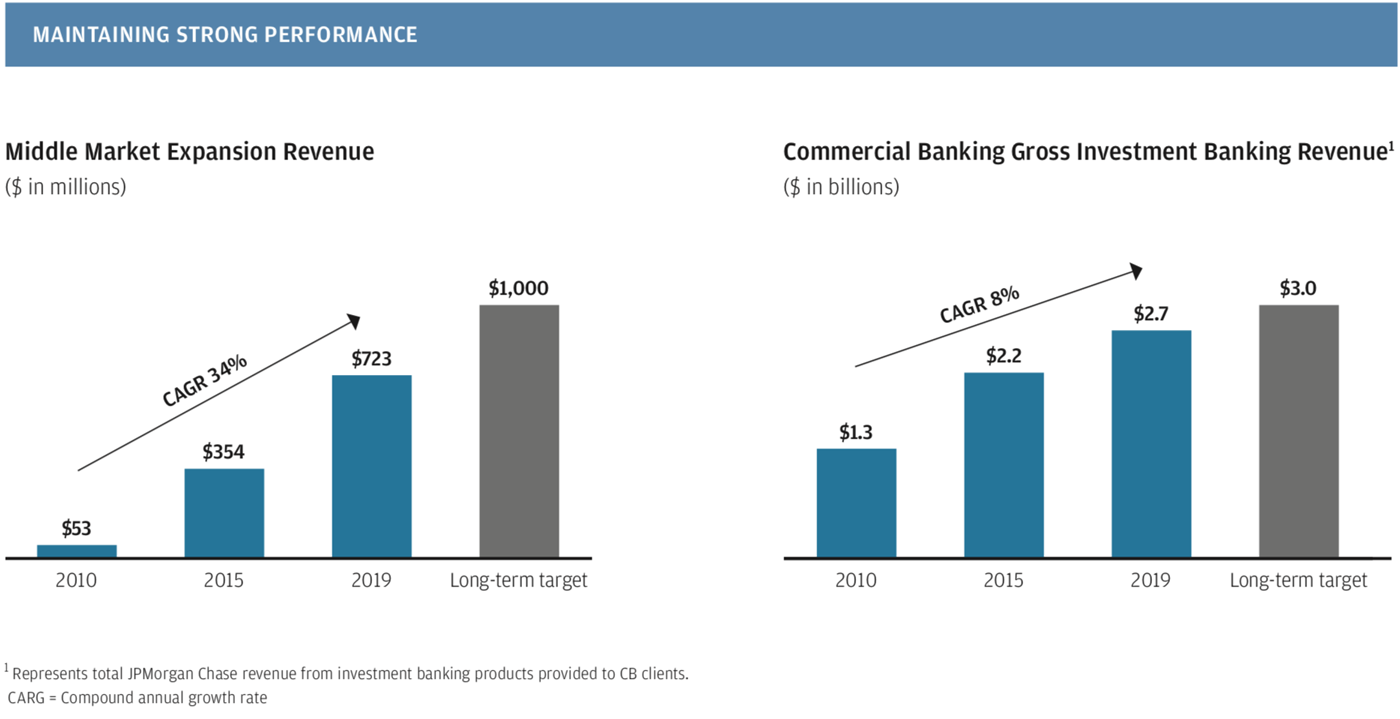 Enormous growth potential
The overall potential to expand our business is tremendous, and as we enter into a new decade, we remain focused on our multifaceted long-term growth strategy. Our Middle Market expansion effort is a terrific example of identifying a market opportunity and executing with purpose. Since 2008, we've nearly doubled our footprint across the country, moving into 47 metropolitan statistical areas (MSAs), adding locations in over 20 states and hiring almost 500 bankers. We've been able to compete and succeed in these new markets because of the quality of our team, the strength of our brand and JPMorgan Chase's unmatched capabilities, delivered at a very local level. To date, we've selectively added almost 3,300 clients, over $15 billion of loans and over $13 billion of deposits.
We're equally excited about expanding our business internationally. In 2019, we hired nearly 80 bankers to serve non-U.S.-headquartered, multinational companies across 18 countries. We have a significant opportunity to support these clients not only in the U.S. but also in other key geographies around the world. As CB continues to build internationally, we benefit greatly from the firm's existing local knowledge and well-established risk, compliance and control infrastructure. Similar to our strategy in the U.S., we are taking a long-term view, focused on selecting only the best clients, and will continue to execute with patience and discipline.

Our clients: Relentlessly focused on delivering solutions and capital to drive their success
Clients are at the absolute center of everything we do, and every day, we strive to deliver differentiated advice, tailored solutions and meaningful capital to help them succeed. The breadth and quality of our capabilities, along with our outstanding team, allow us to build deep, valuable relationships over time. By being part of JPMorgan Chase, we have the ability to serve clients throughout the life cycle of their businesses – from opening their first operating accounts and expanding overseas to funding an important acquisition or taking their company public. In 2019, across our business, we made more than 290,000 client calls and grew loans by $2.4 billion, ending the year with $208 billion in average loan balances. Our long-term view, unmatched solutions and enduring commitment to our clients set us apart in the industry.
As our clients' expectations continue to evolve, we have dedicated teams designing new functionality that will deliver even greater value to our clients and enhance their experience. This design-led approach has informed our investments in technology, data, digital and payments. To date, our work has resulted in tangible benefits, such as faster credit delivery, reduced account opening time and new integrated solutions.
We can uniquely bring our clients an entire suite of wholly owned, global treasury capabilities, including merchant acquiring, commercial cards and cross-border payments. These integrated solutions allow clients to accept any method of payment, in any currency, around the world. Moreover, clients can connect with us however they want, from a global exchange to application programming interfaces. As a result of the investments we are making in our comprehensive payments platform, we can deliver valuable analytics and insights to clients across all of their treasury activities to optimize their businesses.

Our communities: Serving as a positive force where we live and work
In CB, we embrace our obligation to be a positive force in our communities. We ended 2019 with over $54 billion in financing to local companies, states and municipalities, schools, nonprofits and healthcare providers. We have dedicated teams across the country, working hard to support these vital institutions so they can continue to keep our communities strong.
Our Commercial Real Estate (CRE) businesses are also at the forefront of this important work. As the #1 multifamily lender in the U.S.footnote1, Commercial Term Lending (CTL) provides capital to apartment building and workforce housing owners. In 2019, more than 40% of the loans originated in CTL funded properties in low- to moderate-income neighborhoods. Our Community Development Banking team had a record year, originating over $2 billion in loans for the construction of affordable housing and extending nearly $200 million in financing to critical community development institutions. In total, our CRE business financed more than 25,000 housing units for low-income individuals in 2019.
Across CB, our people best demonstrate the positive impact we create in our communities. Many of our employees are active civically and serve on philanthropic boards. Last year, our team volunteered more than 25,000 hours with local organizations. We take great pride in the work we do to support our communities and the firm's commitment to make a difference.
Our employees: Empowering and enabling our teams
Our success wouldn't be possible without our incredible team. As such, we're focused on having the best, diverse talent with the right skills to lead our business forward. We're making significant investments in our training and development programs to enhance our team's expertise in emerging technologies, data and digital solutions. We have created dedicated training centers that host intensive credit and treasury services programs to build upon critical knowledge and enable our teams to provide even more value to our clients. Overall, in 2019, CB employees completed more than 350,000 hours of training.
We're also investing to empower our teams with the best digital tools and data resources to ensure their success. Last year, we launched a new client management system that harnesses the power of cloud technology and our firmwide data assets to better support our bankers. This platform provides live dashboards with real-time client information – alerting our team on service needs, product usage and the overall health of their client portfolio. So far, we've received tremendous feedback, as the tool meaningfully increases efficiency and allows more time to be spent with our clients.
Looking forward: Continuing to execute with patience and discipline
Focused on our strategic priorities
Looking ahead, our attention remains focused on executing our long-term strategic priorities. We will continue to invest and drive innovation across our businesses, build deep client relationships, maintain fortress principles, and attract and retain the best talent. Doing all of this with patience and discipline will allow us to deliver value for our clients, employees, communities and shareholders throughout the cycle.
Managing the market challenges emerging in 2020
We have a long history of supporting our clients and being a market leader through challenging times. Our approach to the current global crisis is no different. As we navigate this complex situation, I have never been more proud of the entire CB team and am so grateful for their hard work, compassion and tenacity. It's inspiring to see everyone come together to support one another, and I am confident the work we are doing for our clients and our communities right now will be remembered forever.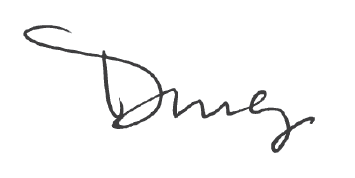 Douglas B. Petno
CEO, Commercial Banking
S&P Global Market Intelligence as of December 31, 2019.