Introduction
Commercial Banking (CB) is the nexus of everything we do at JPMorgan Chase. The hard work of our dedicated team, along with the unmatched capabilities across our firm, allows us to build deep, lasting relationships with so many great companies. We are incredibly proud of the role we play in the success of our clients, and we are grateful every day for the confidence they place in us.
One such success story is siggi's yogurt (siggi's), celebrated as the fastest-growing national yogurt brand in 2017. What started as selling his unique recipe out of coolers at local outdoor markets in New York, founder Siggi Hilmarsson quickly turned his humble operation into a thriving business. Up until 2016, Siggi and his team had fully funded the company on their own, but when their growth accelerated, we worked with them to deliver their first bank credit facility. As Siggi shaped the company's plans for the future, we provided differentiated industry advice, and in 2017, we were selected to advise siggi's on the sale of the company — the capstone transaction for an incredible brand and business. At every step, we were delighted to support Siggi's passion to share his native Icelandic recipe with households around the country.
Our dedication to clients, like siggi's, continues to drive our strategy and how we do business in CB. I'm excited to share highlights of our 2017 performance, the investments we are making to deliver more value to our clients and the steps we are taking to reach our full potential.
2017 performance
With strong momentum across all of our businesses and continued focus on executing our strategic priorities, CB delivered record financial results for 2017, earning $3.5 billion of net income on revenue of $8.6 billion. We achieved a notable return on equity of 17% and an industry-leading overhead ratio of 39%, even while making significant investments across the business.
Higher interest rates, disciplined loan growth and outstanding credit quality all contributed to our record performance. We ended the year with record loan balances across our Commercial & Industrial and Commercial Real Estate (CRE) businesses, up $15 billion or 8% from the prior year. Staying true to our proven underwriting standards, we have remained highly selective in growing our loan portfolio — 2017 marked the sixth straight year of net charge-offs of less than 10 basis points. This ongoing discipline is especially important given the late stages of the current economic cycle and competitive pressures in the market.
These record results reflect our sustained investment, the incredible effort of the CB team and their continued focus on our clients. We are committed to building upon these great milestones and see tremendous potential across our franchise.
Executing our long-term, organic growth strategy
Our strategy to grow CB remains consistent year after year: Add great clients and work hard to deepen those relationships over time by delivering valuable solutions to help them succeed. We have been steadily investing in the business, taking a long-term disciplined approach. Since 2010, we have expanded into 33 new cities and added more than 800 bankers, helping us achieve sustained organic growth across our business.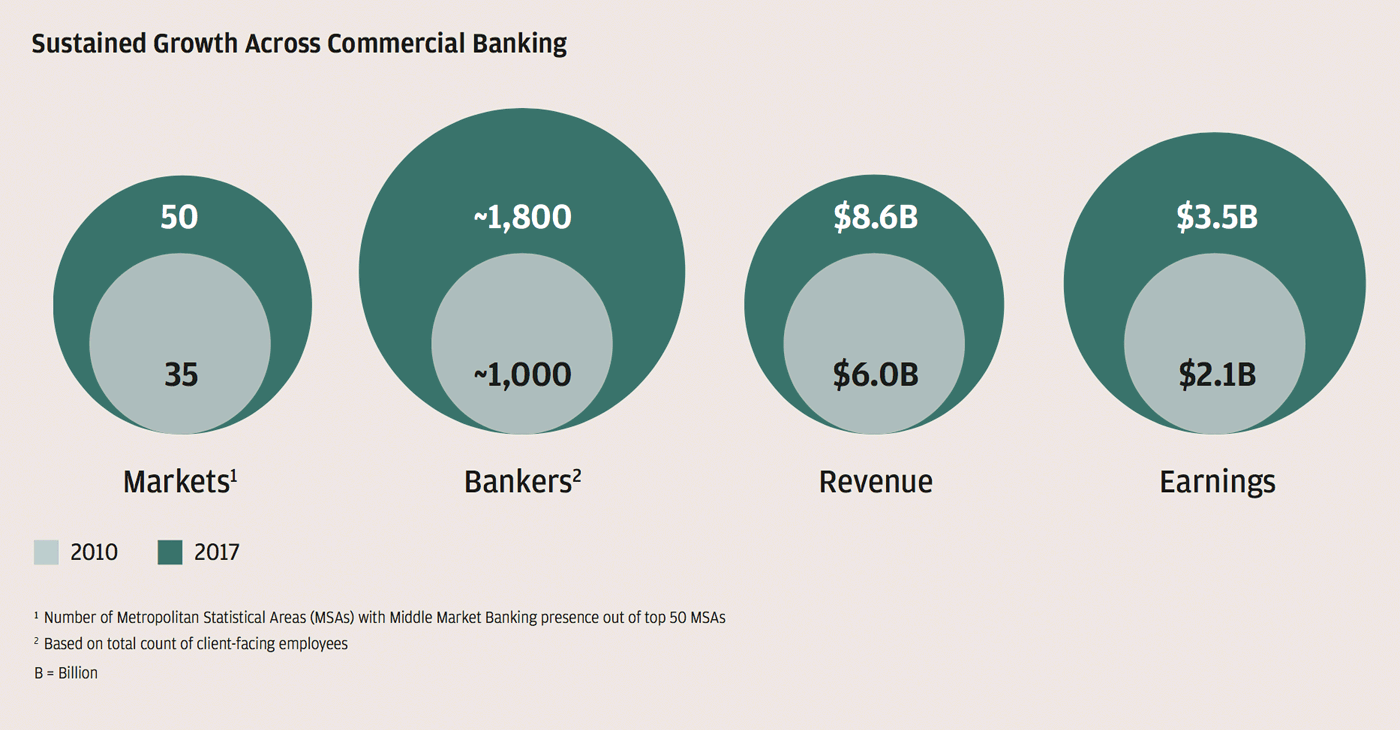 Expanding into new markets
Being able to deliver the broad-based capabilities of JPMorgan Chase at a very local level is a key competitive advantage. In 2017, we added client coverage in six new high-potential markets and now have dedicated teams in all of the top 50 metropolitan statistical areas. We look forward to growing our business in these terrific locations and expanding into additional communities in the future.
Investing in our team
Our success depends 100% on our people. As such, we are making significant investments in our training and development capabilities, all focused on providing our bankers with the deep expertise they need to best serve our clients. In 2017, we hired more than 100 bankers to support the growth and expansion of our business, and we expect to add more great bankers in the coming year.
Delivering value to our clients
Expansion is only one part of our growth strategy — deepening our relationships with our clients is equally important. Given the breadth of our capabilities, we can support the needs of businesses of all sizes — fast-growing companies, like siggi's, as well as large, multinational corporations.
With the quality of our team, differentiated advice, and ability to deliver a full range of solutions locally, not many other banks can serve clients the way we can. In 2017, our clients had more than $135 billion in assets managed by our leading Asset & Wealth Management business, generated nearly 40% of all North America Investment Banking (IB) fees for the Corporate & Investment Bank (CIB), and made over 13 million transactions in our branches.
Smart growth in our CRE business
We have been building a CRE business that will stand the test of time. Although we are in the late stages of the real estate cycle, market conditions for our targeted asset classes remain strong, and we were able to grow our CRE loan portfolio by $12 billion in 2017. Importantly, maintaining our strict underwriting standards and conservative approach, we are focusing only on the loans and markets we know best. If we can stay true to these fundamentals, we believe we can continue to selectively grow our real estate loan balances.
Innovating across CB
Complementing our investments to drive growth in our business, we are working to bring new technologies and innovation to transform how we interact with our clients. Our approach to innovation is anchored on having a full understanding of the identified, as well as unidentified, needs of our clients. Over 99% of companies in the U.S. are small to midsized businesses. We know they have unique behaviors and concerns. They tell us they don't feel in control. Small business owners and their teams can be stretched, and they struggle with forecasting, collecting receivables and managing vendors. To help, this past year we increased our payments, technology and digital investments and put more capital and resources into delivering real solutions to these challenges.
Digital
In 2017, we partnered with Consumer & Community Banking to launch a new digital platform, Chase Connect, that is tailored to meet the needs of small and midsized companies. This platform provides our clients with a simple and convenient experience, integrating account information, payables and receivables. Chase Connect allows clients to see all of their accounts in one place, stay organized when paying bills, view payment history, approve transactions quickly and easily from one location, and receive customized account alerts. We are focused on having the best integrated, digital capabilities for clients and will continue to invest in enhancing the functionality of this robust platform.
Payments
Recognizing that managing payments is a major pain point for our clients, we completed a comprehensive analysis to determine a digital solution. In 2017, we announced our investment in and partnership with Bill.com, the largest digital business-to-business payments network in the U.S. Seamlessly integrated into Chase Connect, this new automated payments capability will enable our clients to easily send and receive electronic invoices and payments, saving them substantial time and effort. We are very excited about this innovative solution and look forward to bringing this functionality to our clients in 2018.
Client experience
In addition to offering new capabilities, we are making great progress in re-engineering our core processes to make it easier for clients to do business with us. For example, we are working to streamline and digitize the onboarding process to ensure that our clients' first experience with JPMorgan Chase is simple and transparent. Through these efforts, clients will be able to provide information electronically, e-sign and upload documents digitally, and receive realtime support via online chat capabilities. Clients are at the center of everything we do, and our work to deliver more value and an exceptional experience has no finish line.
Looking forward
While we celebrate CB's record 2017, we do not take our performance for granted. We understand that complacency and standing still in any way will threaten the future success of our business. As such, we remain focused on building upon our franchise to provide even more support to our clients. By combining the core strength of our business with new technologies and innovation, we believe we can further extend our competitive advantages.
I want to thank all of our great clients, like siggi's, for the trust and confidence they place in JPMorgan Chase. I also want to thank the entire CB team for their continued dedication to our clients and their communities. I am excited about the direction of the business for 2018 and beyond.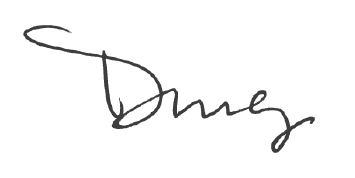 Douglas Petno
CEO, Commercial Banking
2017 Highlights and Accomplishments
Performance highlights
Delivered record revenue of $8.6 billion
Grew end-of-period loans 8%; 30 consecutive quarters of loan growth
Generated return on equity of 17% on $20 billion of allocated capital
Continued superior credit quality — net charge-off ratio of 0.02%
Leadership positions
#1 U.S. multifamily lender

footnote

1
#1 in overall satisfaction, perceived satisfaction, customer relationships and transactions/payments processing —

CFO

magazine's Commercial Banking survey, 2017
Top 3 in Overall Middle Market, Large Middle Market and Asset Based Lending Bookrunner

footnote

2
Winner of 2017 Greenwich Best Brand Awards in Middle Market Banking — overall, loans/lines of credit, cash management, international products/services and investment banking
Winner of 2017 Greenwich Excellence Awards in Middle Market Banking: international capabilities, cash management online banking functionality, cash management mobile banking functionality
Business segment highlights
Middle Market Banking — Record gross Investment Banking revenue

footnote

3; added eight new offices
Corporate Client Banking — Record revenue, with average loans up 10% from prior year
Commercial Term Lending — Record average loans; completed rollout of Commercial Real Estate Origination System for MFL business
Real Estate Banking — Record revenue, with average loans up 27% from the prior year
Community Development Banking — Record New Market Tax Credit equity investment production of $1.2 billion — Financed more than 9,000 units of affordable housing in 70+ cities through construction lending commitments of over $1 billion
Firmwide contribution
Commercial Banking clients accounted for 38% of total North America Investment Banking fees

footnote

4
Over $135 billion in assets under management from Commercial Banking clients, generating more than $475 million in investment management revenue
$479 million in Card Services revenue

footnote

3
$3.4 billion in Treasury Services revenue
Progress in key growth areas
Rank based on S&P Global Market Intelligence as of 12/31/17
Thomson Reuters LPC, FY17
Investment Banking and Card Services revenue represents gross revenue generated by CB clients
Represents the percentage of CIB's North America IB fees generated by CB clients, excluding fees from fixed income and equity markets, which is included in CB gross IB revenue
Non-U.S. revenue from U.S. multinational clients
CAGR = Compound annual growth rate
MFL = Multifamily lending