Consumer & Community Banking
We continue to make real progress in Consumer & Community Banking, and I am proud of what our great team has accomplished. We have built multiple market-leading businesses while de-risking and simplifying them, and we worked with regulators to close gaps and make tough decisions. We do the hard work each and every day to put our customers first and do the right thing.
Our performance in 2019 is the result of that discipline and effort. We are the #1 U.S. credit card issuer based on sales and outstanding balances. We are the #1 primary bank in our footprint. We are the #1 business bank based on primary relationships. We are the #2 mortgage servicer and the #3 bank auto lender.
We take nothing for granted and remain humble and motivated as we compete to be, or stay, best in class.
2019 financial results
In 2019, Consumer & Community Banking delivered a 31% return on equity on record net income of $16.6 billion. Our $55.9 billion in revenue was up 7% year-over-year. We reduced our overhead ratio to 51.7% and self-funded significant investments. We grew our customer base to nearly 63 million U.S. households, including over 4 million small businesses. This performance is a direct result of the growth in our business drivers and our sustained focus on investing for the medium and long term.
Our average deposits of $694 billion were up 3% over 2018, and client investment assets reached $358 billion, up 27%. We ended the year with $464 billion in average loans, reflecting $43 billion in loan sales over the last two years. Our customer base of active mobile users is the largest and, on an absolute basis, the fastest growing among U.S. banks: 37 million, up 12% year-over-year.
There was no way to predict that credit performance would remain as strong as it has over these last few years, and that has positively contributed to the performance we delivered in 2019.
We achieved our 2019 results with continued focus on six strategic priorities that have remained consistent and have proved to be effective. We bring in new customers, drive engagement across multiple channels and always focus on improving their experience with us. We closely manage expenses and simplify our business, and we seek efficiency and greater productivity. We're intensely focused on the regulatory and risk and control environment. We work to hire the best, diverse talent in the industry that also reflects the diverse communities we serve.
Here are some highlights of what we accomplished in 2019 in each of these areas:
Acquire, deepen and retain customer relationships by offering compelling value propositions
We're bringing in new customers and earning more of their valuable business. In 2019, we grew the total number of households we serve and increased the number of households that have a relationship with more than one Chase line of business even faster than households overall. Among our consumer households, 25% have a relationship with two or more Chase lines of business.
Our lending businesses – Credit Card, Home Lending and Auto – are a significant acquisition funnel for our deepest customer relationships, bringing in more than half of all new-to-Chase households. Our lending customers respond to Consumer Banking marketing at three times the rate of pure prospects; in branch expansion markets, the response rate is even better. Customers with these deeper relationships are more satisfied and less likely to leave Chase. We continually improve and simplify the customer experience and offer new, customer-centered digital capabilities using our data to benefit and protect our customers.
In Consumer & Business Banking, our focus is to be our customers' primary bank. Customers consider a wide range of factors when choosing their primary bank. Over 75% of our checking households are primary relationships, and we are the #1 business bank based on primary bank relationships. The deposits these customers bring to us are the outcome of that relationship.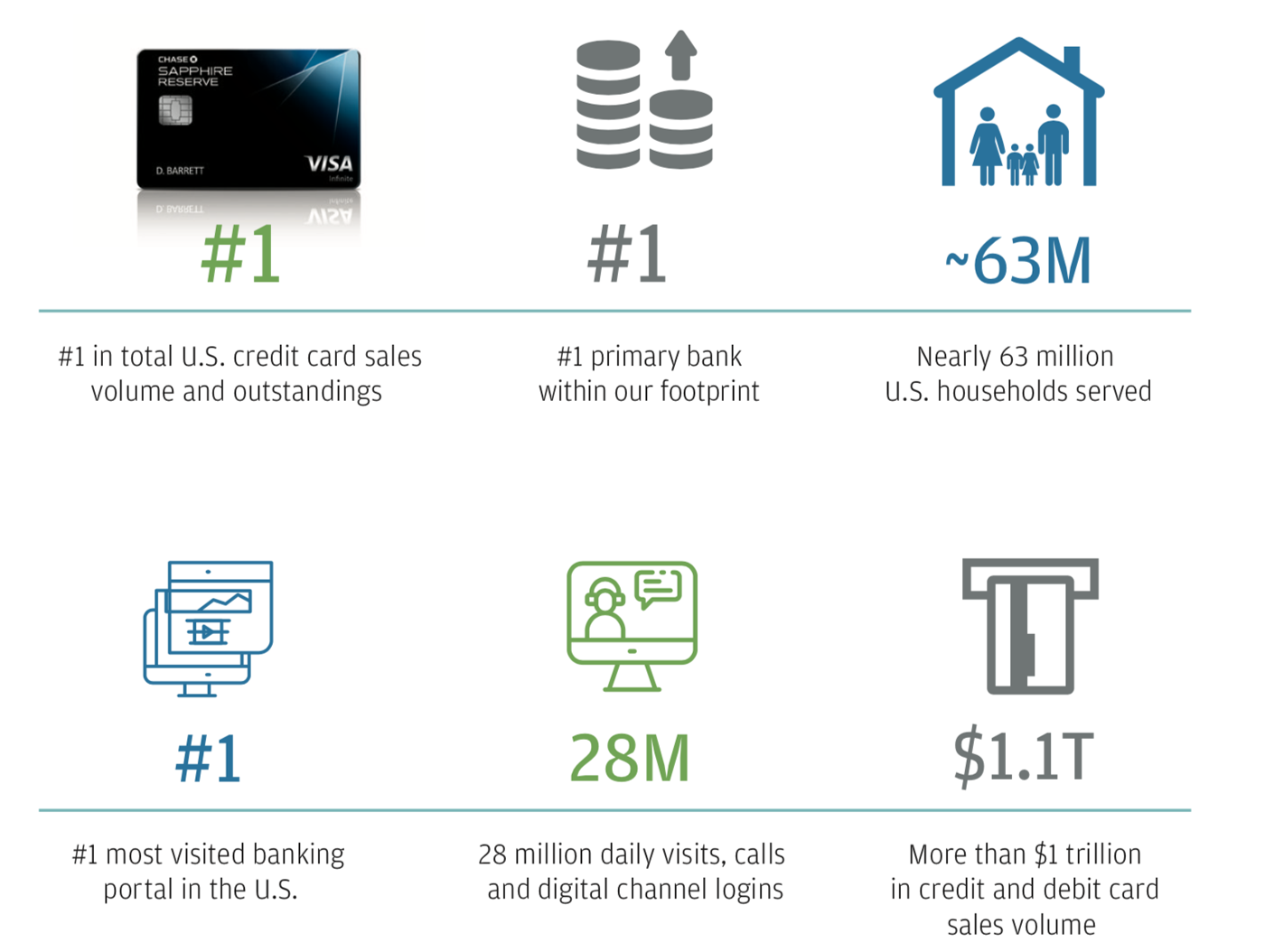 Drive engagement through omnichannel, customer-centered experiences
The scale of our distribution gives us a competitive advantage. When we bring new products and services to the marketplace, we bring them to nearly 63 million households that engage with us on a regular basis. On any given day in 2019, 28 million customers visited us, called us or logged in to our digital channels. Two-thirds of our Consumer Banking customers used more than one channel to interact with us during the year. We are still committed to our omnichannel strategy because our customers are. And all of our channels have evolved based upon our customers' preferences and expectations. For example, we're able to build branches in new markets farther apart than branches in our legacy markets because of our new tools and capabilities: our digital account opening functionality and data about our existing customers in those markets.
In these newer markets, customers can choose whether to open an account in a branch or digitally. Until 2018, our checking and savings accounts could only be opened in a branch. In addition, we were able to use the information we have about where our customers live, work and shop to determine the optimal locations to place our new branches and ATMs. This has allowed us to enter markets with the smartest possible footprint and helps explain why the early-stage performance of these branches has exceeded our expectations.
In our digital channels, we are providing new features for our customers based on their relationship with Chase. In Chase Mobile, our Snapshot feature offers personalized insights to help customers make the most of their money. One insight that educates customers on how to begin saving automatically – Autosave – enabled our customers to set aside more than $1.5 billion in 2019.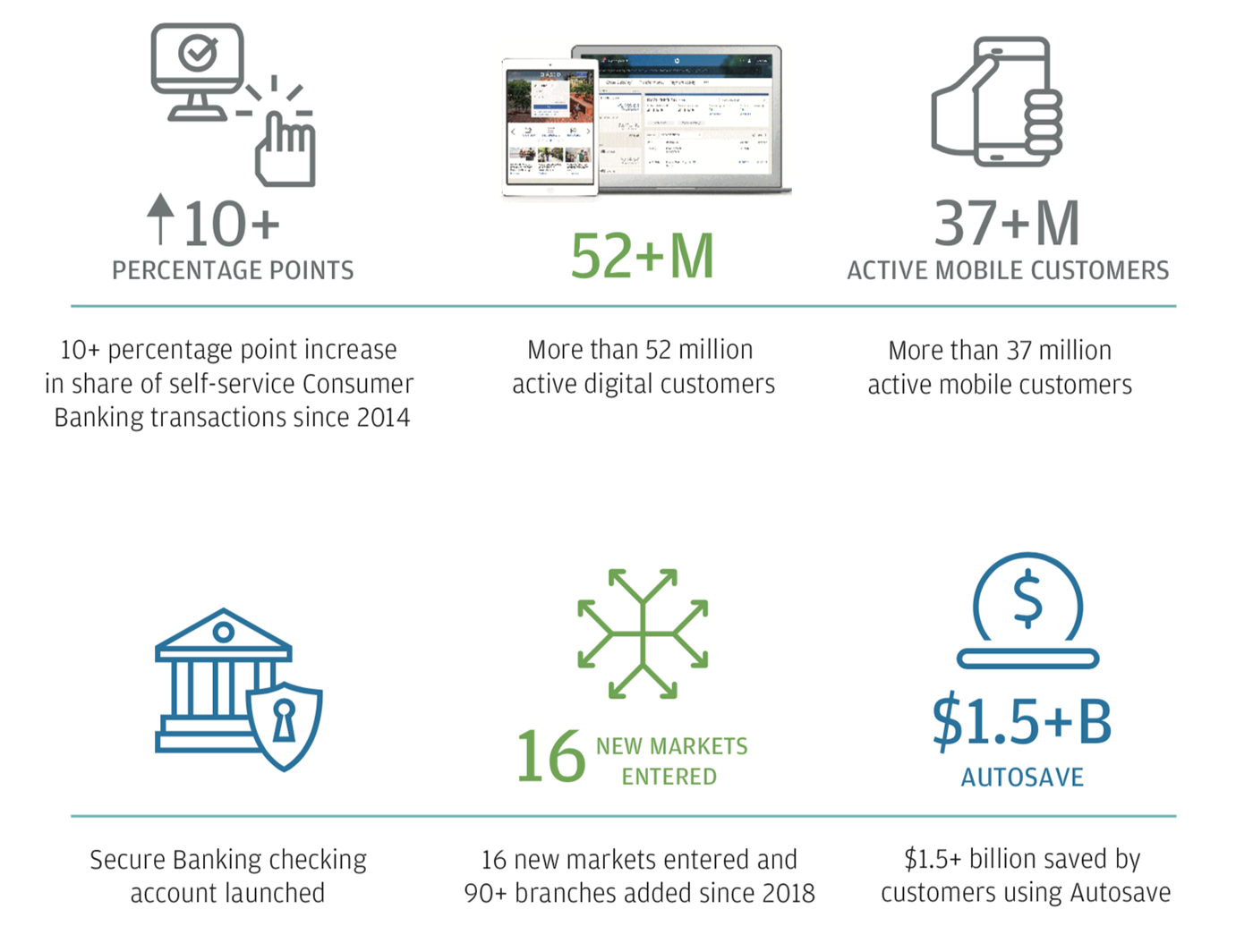 Improve productivity, agility and customer experience through data, analytics and technology
We're using data, analytics and technology to improve the customer experience and drive productivity. Over the last five years, our operational staff has become 20% more productive, serving a larger customer base with a smaller team. The cost to serve each household has declined 14% over the same time period, as the share of transactions completed through self-service channels has grown more than 10 percentage points.
We are adopting more agile ways of working, including a product- and platform-based architecture. Product and platform owners have end-to-end ownership, which puts decision making closer to the customer, helping us move faster than we could in an annual planning cycle.
These efforts have made us better at providing the capabilities and features that improve the customer experience. As an example, we began extending already-approved offers to existing customers for whom we had enough information to make an approval decision. Being able to show customers products they are qualified for is a superior client experience. Previously, these same customers had been required to reapply for products using the same application as a new-to-Chase customer. For certain customers – 10 million to date – that wasn't necessary; we wanted to save their time and make it easier to do more business with us. Customers value the transparency and certainty of these already-approved offers and the simple one-click experience to accept them. Personalized offers such as these convert at rates up to 20% higher than our traditional marketing offers.
Manage expenses and simplify our business while continuing to invest for the future
We closely manage expenses, continuously simplifying and investing for the medium and long term – driving down our overhead ratio in the process. Our 2019 overhead ratio of 51.7% was 170 basis points better than in 2018 and 6 percentage points better than five years ago. In areas where we have become more efficient, we have been able to self-fund some of our investments in our businesses.
Many of the investments we made have allowed us to reduce annual expenses via automation and enabled the improved productivity described earlier. In Consumer Banking, our investments in digital self-service capabilities have reduced everyday branch transactions per customer by 49% since 2014 – eliminating transactions that are simple and easy for customers to manage anywhere and at their convenience, such as depositing checks.
Our investments for the long term have also led to revenue growth. Examples include the 400 branches we are in the process of opening in new markets to extend our reach. Our new branches in existing markets break even seven months faster than they did five years ago, and the branches in our newer markets are trending even better than that.
Operate a disciplined risk and control environment, protect the firm's systems, and safeguard customer and employee privacy
As always, we are focused on managing risk appropriately and using well-designed controls. This work is never done. Investing in these efforts remains our highest priority, and we have done so consistently over time. We are vigilant and never complacent in this space.
Over the last five years, for example, we've used technology and machine learning to reduce fraud losses in the credit card business by 50%.
We have made great strides to protect customer data, as well as our own systems, when sharing data. Previously, to share information with approved third parties, customers provided their Chase login credentials, giving access to their entire Chase profile. This enabled third parties to obtain information beyond the scope of the customer's intention. That wasn't safe for the customer or for us. Now we require these third parties to abide by our data-sharing rules, and we securely send data that customers choose for us to provide on their behalf. This reduces risk for all parties while giving transparency and control to our customers.
Attract, develop and retain the best talent for today and the future, harnessing the power of diversity
Our talent sets us apart, and we work to attract and retain the best, diverse talent for today and tomorrow. Our team must represent and reflect the diverse customers we serve every day. We are proud that more than 57% of our employees in Consumer & Community Banking are female and more than half of our U.S. employees identify as a minority. The roles with the highest minority representation are disproportionately our customer-facing, front-line roles rather than executive management. We are mindful of this imbalance and are working tirelessly to correct it.
Representation is only part of the equation when it comes to attracting and retaining world-class talent. We are focused on driving inclusiveness and reinforcing the fact that we all are responsible for keeping a culture where everyone is respected and valued for who they are and what they contribute.
Conclusion
We have built tremendous businesses that deliver repeatable revenue. Each year, we work hard to bring in new customers, retain existing ones and generate earnings throughout economic cycles. We are experiencing turbulent times across the country – and the world – as we get set to publish this letter. We are here for our customers in good times and tough times, and that is true now more than ever.
Over the last few weeks, we have been offering relief to our customers and small business clients who are struggling financially. We have provided payment relief for credit cards, auto loans and home loans. We also continue to lend money.
And as we forge ahead through this challenging time and get through it, we still see opportunities to help and support more people. Two opportunities that stand out are: helping a broader range of Americans manage their financial lives and earning the chance to manage investments for the many millions of households that work with Chase as their primary bank.
Our Chase franchise is powerful and differentiated from our peers. We will continue to support our customers, small business clients, communities and employees now and in the future.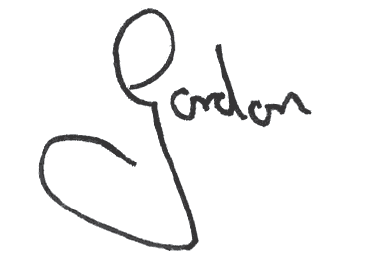 Gordon Smith
Co-President and Chief Operating Officer, JPMorgan Chase & Co., and CEO, Consumer & Community Banking

We've started to bring together our digital experiences to engage customers at an earlier stage in their financial journey. Doing so can help them reach their goals faster. Our already-established digital tools give customers a clear view and understanding of their finances.
Today, customers can better understand and manage some of their most important financial assets; for example, their home. In 2019, we rolled out a digital mortgage offering, Chase MyHome, allowing customers to apply for a loan and initiate a mortgage origination digitally.
Customers can use features such as Credit Journey to receive a detailed view of their finances and borrowing ability; Autosave allows them to set a down payment savings goal. And with Chase MyHome, they can review the value of their current home and explore their neighborhood before applying for a new loan.
These are just a few examples of how we continue to do more to help our customers with their everyday finances. We plan to create more of these experiences for customers with similar opportunities, such as buying a car, saving for a vacation and staying on top of everyday purchases.