Commercial Banking
I want to begin this letter with a heartfelt thank you to all of my colleagues in Commercial Banking (CB). Without a doubt, 2020 presented tremendous challenges, which our team met directly with unwavering commitment and dedication. Amid enormous uncertainty and adapting to a new work environment, we remained relentlessly focused on supporting our clients, our communities and each other.
Looking back, we faced this past year from a position of strength, having maintained our credit discipline, prepared extensively for a potential downturn, and made significant investments in our platforms and technology. It was this consistent execution of our long-term strategy that led to CB's strong performance last year.
There's so much to highlight about our business and our team – this letter will give you but a small glimpse.
Standing with our clients
We take great pride in standing with our clients during challenging times. The breadth and magnitude of financial stresses across the globe in 2020 were astounding – operations were halted, supply chains were disrupted and revenue across many industries fell dramatically. Through all of this, our CB team supported our clients and helped them access vital liquidity as they adapted to the pandemic and faced tremendous uncertainty.
For example, we extended $13 billion in new creditfootnote1 to many healthcare clients, including New York-Presbyterian Health System – which experienced a significant increase in overnight patients as a result of COVID-19. We moved quickly to provide necessary liquidity, enabling them to acquire additional medical supplies and equipment, expand their staff, and serve the community in a time of crisis.
Moreover, our team worked tirelessly to facilitate the distribution of federal government emergency funding through various stimulus programs. In March of 2020, we rapidly built the processes, platforms and technology needed to deliver critical financing to our clients, partnering across the firm to help protect millions of jobs. This important work has continued into 2021.
Supporting our communities
The pandemic has had a profound impact on our communities and has magnified the challenges they face, especially in underserved segments of society. In 2020, we extended $21 billion in financing to states and municipalities, educational institutions and healthcare providers. Given the importance of these vital institutions, particularly during times of crisis, we are proud to support them in their delivery of essential services to our communities.

View Text Version ►
Extending Credit to Support Our Communities
$13B to hospitals and healthcare services
$4B to eductaional institutions
$4B to state and local governments
$3B to affordable housing
In addition, our Commercial Real Estate businesses continued to provide much-needed resources to help expand and preserve access to affordable housing. As part of the firm's Path Forward commitment to advance racial equity, we have committed to finance an additional 100,000 affordable rental units over the next five years to further address this systemic challenge. Through this commitment, we will provide $14 billion in new loans, equity investments and other support to increase and sustain affordable housing in underserved communities.

View Text Version ►
Financing Affordable Housing
Mercy Housing is a nonprofit that helps people access safe, stable and quality affordable housing. In 2020, we provided the construction financing and equity for two major Mercy projects in California: 1064 Mission Street, co-developed with Episcopal Community Services, in San Francisco and Capitol Park Hotel in Sacramento. These projects will create nearly 400 affordable housing units and house vital services for people experiencing homelessness.
Investing in our long-term strategy
In CB, we are executing a long-term, disciplined strategy, focused on adding great clients and delivering valuable solutions to help them succeed. Throughout 2020, we remained focused on our strategic priorities and continued to invest and innovate across our business.
Investing to serve more clients
Being able to deliver our broad-based capabilities at a very local level distinguishes us from our competitors. As such, we now have teams in 137 U.S. locations. Through data-driven analysis, we've identified over 50,000 prospective clients across our Commercial & Industrial businessesfootnote2 and have expanded local coverage accordingly. Since 2008, we've essentially doubled our footprint across the U.S., as we moved into 47 new, high-potential markets, and we're excited to deepen our presence in these markets in the years to come.
We also have an incredible opportunity to serve non-U.S.-headquartered, multinational companies overseas. Since launching our international expansion initiative in 2018, we've added bankers to cover high-quality companies across 17 countries. While we're just getting started, we're very excited about the client response and activity we have seen so far. Similar to our domestic strategy, we are taking a long-term view and focused on covering only the best clients.
Market expansion is only one part of CB's growth strategy – deepening relationships with clients is equally important. We know our clients have unique needs and value industry-specific insights and solutions. To better serve them, we've added a number of new industries to our coverage model over the last several years and now have specialized teams aligned to 17 industry sectors. We expect these dedicated efforts to drive meaningful future growth in our business.
Investing in innovation
We are innovating and building for the future while at the same time managing a franchise at scale. As we look forward, we continue to take a design-driven approach to assess our clients' evolving needs and expectations, directing our investments in data capabilities, technology, platforms and solutions to help further differentiate our value proposition and how we do business.
With many working remotely, our clients faced complex challenges in 2020. Through our digital banking platforms and payment solutions, we provided ready access to the tools clients needed to continue to run their businesses. Digital adoption accelerated last year, and we added more than 1,800 new relationships – many onboarded completely virtually. We are continuing to invest substantially across all of our platforms to more seamlessly integrate them with those of our clients and deliver a superior experience.
Investing in our team
Our outstanding team and culture of excellence are the foundation of our success in CB – this was especially true last year. By the end of March, 98% of our team was working remotely – and a small group of truly heroic colleagues continued to carry out essential operations on-site. The leadership, creativity and partnership demonstrated across our business were inspiring and reinforced the importance of our people.
As always, we remain focused on hiring, training and enabling the best team to execute our strategy. Our technology investments are connecting us in meaningful new ways, reinforcing our values of teamwork and collaboration. As we seek to foster even more innovation across our business, we're adding expertise and training in design, data and technology. We're empowering our people with tools and analytics that allow them to more effectively and efficiently serve our clients.
Fostering an inclusive workplace took on new meaning last year, and we are committed to building an organization representative of the communities we serve. Despite the recruiting challenges posed by COVID-19, we increased diverse representation across all demographics and welcomed our most diverse full-time analyst classes in recent years.
Solid financial performance
We don't measure our success on an annual basis; rather, we take a long-term view and invest through the cycle. The investments we've made in our people and capabilities, combined with our patience and discipline, continue to drive strong results across our business. In 2020, CB delivered net income of $2.6 billion on $9.3 billion in revenue, generating a return-on-equity of 11%. We are proud of our performance despite market volatility, lower interest rates and a significant build in our credit reserves.
Our underwriting discipline and client selection helped drive our solid credit performance last year, with net charge-offs of 18 basis points, primarily concentrated in certain industries. While our actual credit losses were modest, CB added $1.7 billion in credit reserves for the year as we prepared for a variety of economic outcomes.
Being able to deliver the full power of JPMorgan Chase to our clients remains a key value driver. Perhaps the best example is our close partnership with the Corporate & Investment Bank, which resulted in record gross Investment Banking (IB) revenuefootnote3 of $3.3 billion, up 22% year-over-year and surpassing our $3 billion long-term target. We see tremendous opportunity in the years to come and have increased our long-term IB revenue target to $4 billion.
While no one could have predicted the events of 2020, our results confirm our strategy and highlight the resilience of our business.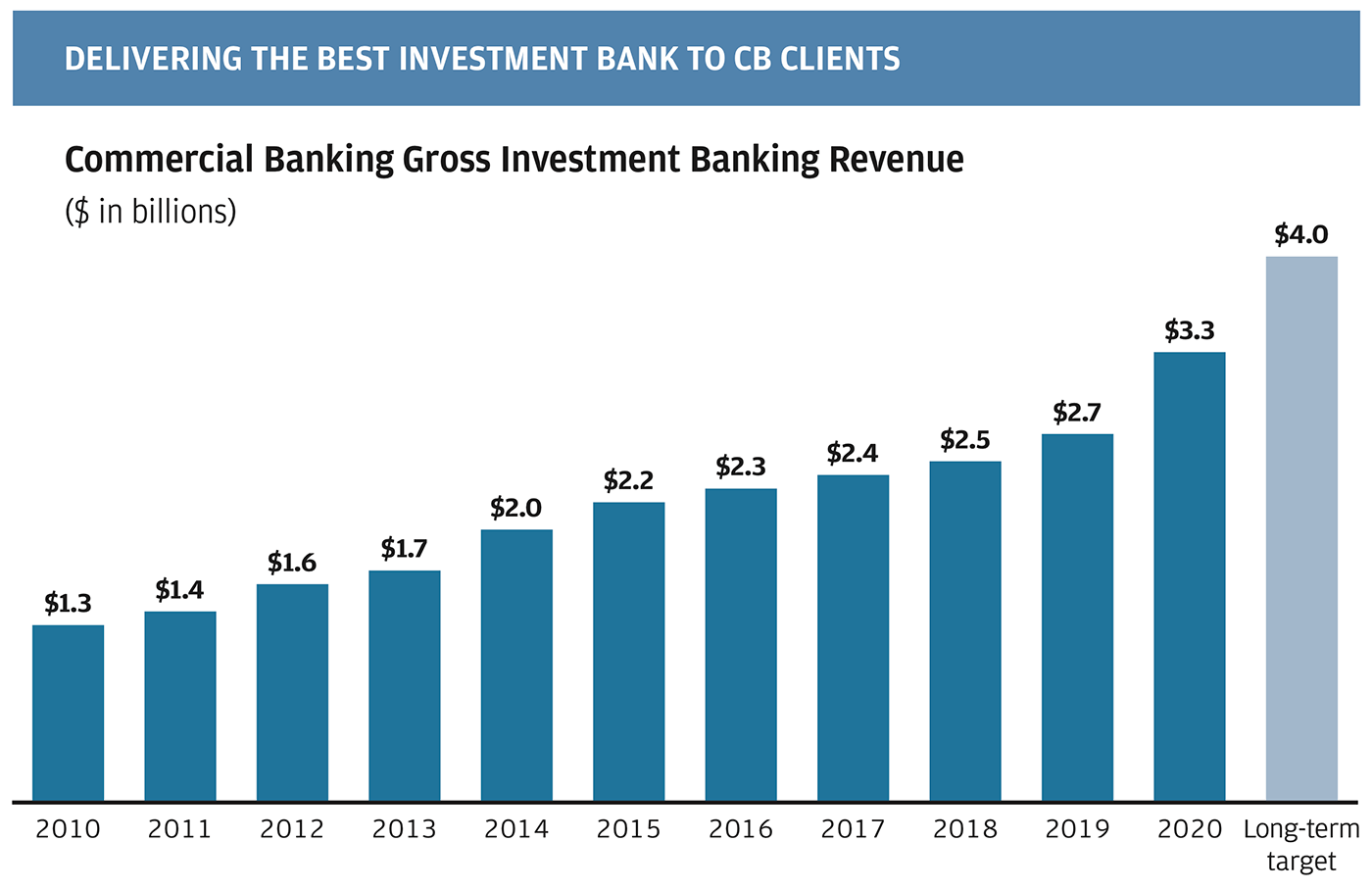 View Text Version ►
Delivering the Best Investment Bank to CB Clients
Commercial Banking Gross Investment Banking Revenue ($ in billions)
$1.3 in 2010
$1.4 in 2011
$1.6 in 2012
$1.7 in 2013
$2.0 in 2014
$2.2 in 2015
$2.3 in 2016
$2.4 in 2017
$2.5 in 2018
$2.7 in 2019
$3.3 in 2020
$4.0 long-term target
Looking forward
I am more optimistic than ever about the future for CB. We have exceptional talent, outstanding capabilities and enormous potential. We have an incredible opportunity to continue to grow our franchise, and we are not standing still – we are innovating and investing across our business for the long term.
Looking forward, we do not intend to simply go back to normal. Last year's challenges made us stronger, giving us an opportunity to learn and grow as a business – finding new ways to serve our clients and strengthen the places we call home. We will capture the many lessons learned in 2020 to help accelerate the execution of our strategy and position CB for even greater success in the future.
I'll close this letter the same way I began, by acknowledging our exceptional team and thanking them for their unbelievable support of our clients and each other.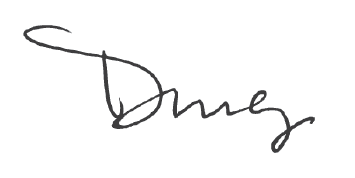 Douglas B. Petno
CEO, Commercial Banking
Includes new credit commitment originations and existing credit commitments that experienced a major modification during 2020
Commercial & Industrial businesses are generally based on client segments and do not align with regulatory definitions.
Represents total JPMorgan Chase revenue from investment banking products provided to CB clients.