In 2018, the U.S. economy benefited from continued low unemployment and stable inflation. There have been other economic periods like this since the 1950s, but they have not lasted as long. The U.S. economy is strong. Gross domestic product increased at an annual rate of 2.9%; unemployment in 2018 hit its lowest level since December 1969; and wage growth picked up, passing along some of the strength of the economic expansion to the consumer – many of whom are our customers. The consumer debt burden is at manageable levels, both consumer and small business optimism is at or near an all-time high, and consumer credit remains strong.
While the economy is performing well, it is not working for everyone. Across the firm, we recognize this and want to do our part to remedy that reality. As a company, we want to help everyone make the most of their money and seek opportunities to connect with households we don't already serve.
2018 financial results
Consumer and Community Banking (CCB) had a remarkable 2018. We delivered a 28% return on equity on record net income of $14.9 billion and $52.1 billion in revenue, up 12% year-over-year. We grew our customer base to nearly 62 million U.S. households, including 4 million small businesses. Among our consumer households, 25% have a relationship with two or more Chase lines of business. This performance is a direct result of the growth in our business drivers and a sustained focus on investing for the medium and long term.
In CCB, our four-year compound annual growth rate for deposits has been double that of the industry overall since 2014, and in 2018, we grew retail deposit share in 27 of our top 30 markets. Our average deposits of $670 billion were up 5%, and client investment assets reached $282 billion, up 3% despite volatility in the market. Since 2014, we have brought in $215 billion of Consumer Banking deposits and investment balances. The incremental deposits acquired over this time period alone would be equivalent to the seventh largest retail bank in the country.
Our customers spent more than $1 trillion on 99 million debit and credit card accounts in 2018, averaging 49 million transactions every day. We also have the largest customer base of active mobile users among U.S. banks at 33 million.
We grew our business while reducing our overhead ratio and making significant investments. These include investing in the 400 branches we are opening in new markets to extend our reach to customers, as well as in other improvements to our customers' experience.
We achieved our 2018 results with continued focus on the same four areas as in years past: customers, profitability, people and controls.
Here are some of the highlights of what we accomplished in each of these areas.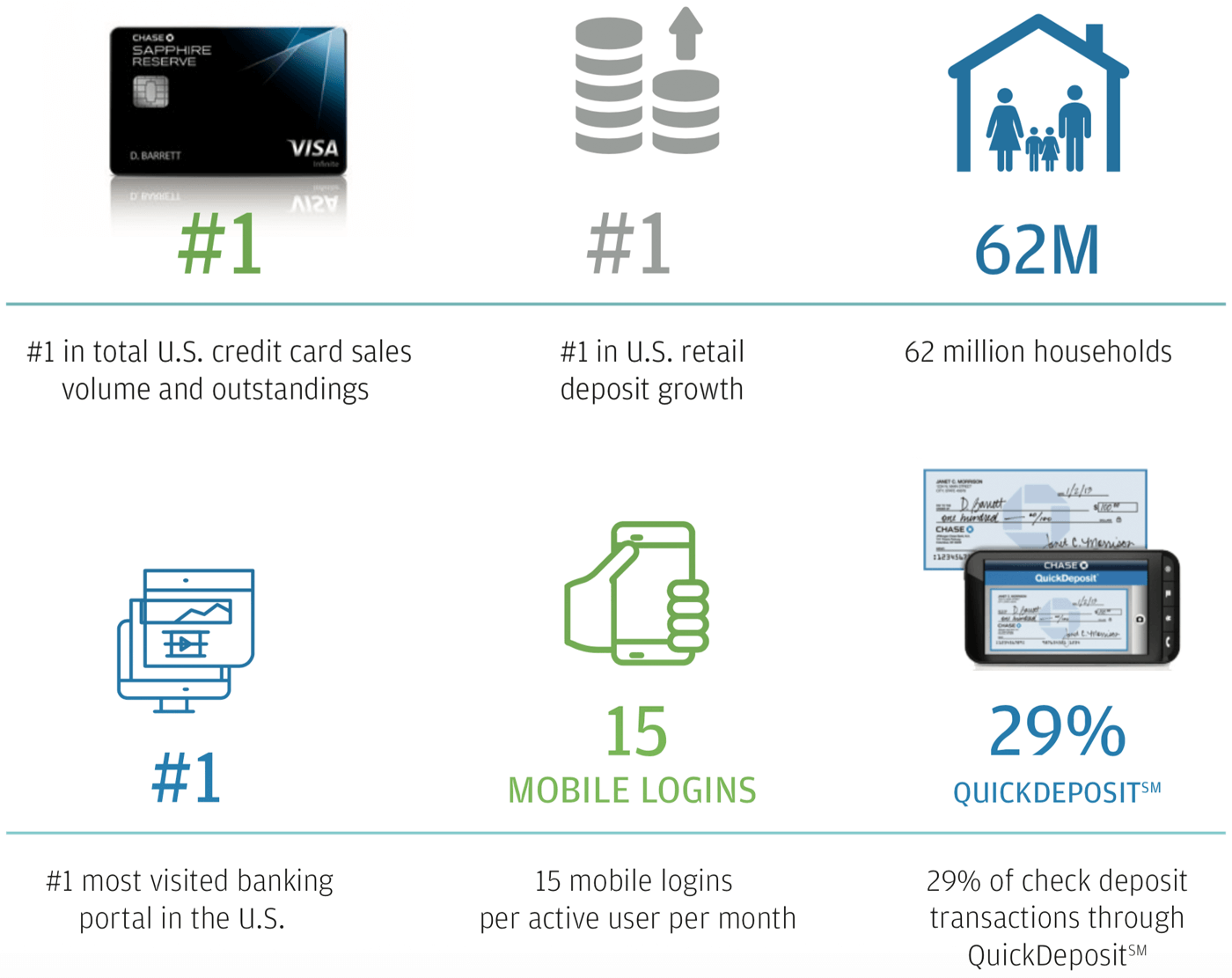 Customers
We are proud that Chase has a relationship with nearly half of all U.S. households. A first step in reaching more customers is making sure we are meeting their needs. Therefore, we are introducing new products and refreshing existing ones with the features and benefits our customers value.
Another step taken this past year was to open branches in new markets, specifically Washington, D.C., Philadelphia and Boston. When we enter these communities, we bring the full force of this great company – hiring, lending and helping customers save for their first home, start a business or retire with financial security. The reception in each market, by new and existing customers, has been wonderful. As part of the market expansion, we also support each local community directly with help from the JPMorgan Chase Foundation. In Washington, D.C., we committed $1.6 million in philanthropy. In Boston, we committed $3 billion for home and small business loans and $1.1 million to support jobs and skills development.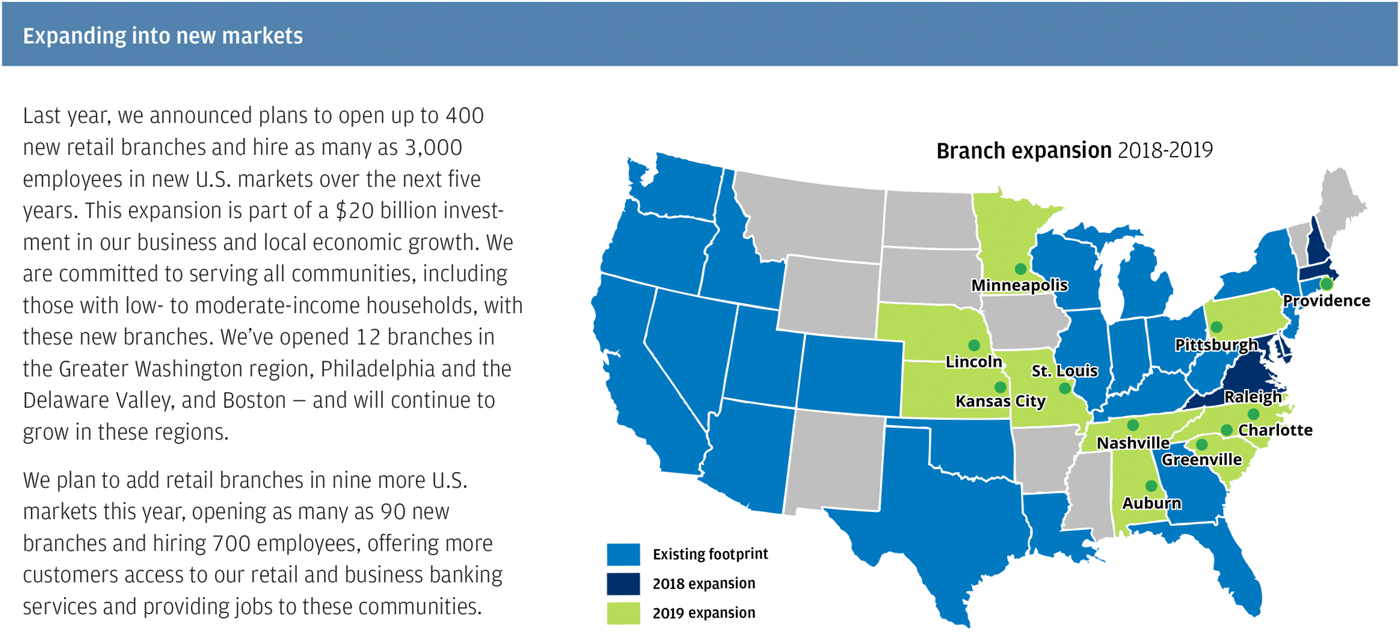 We are always focused on improving the customer experience. Across all of our products, we have made it quicker and easier to become a Chase customer. Increasingly, that experience is digital, online or mobile. More than 1 million customers opened a checking or savings account digitally in 2018. For existing customers who were adding an account, it took less than three minutes. We have plans to reduce that time even further.
Existing customers enjoyed a steady stream of improvements to their experience with us: the ability to lock and unlock a misplaced card, more options on how to pay credit card bills, discounts and offers from favorite merchants, and, for those who have multiple relationships with us, a clear understanding of the products they qualify for before applying.
Profitability
We prioritize long-term, profitable growth when making decisions about investing in the future of our consumer franchise. In 2018, we continued our progress to drive down structural expense, reducing our overhead ratio to 53%, down from 56% the prior year. We've also made progress reducing our cost to serve each household while our customer base and total transaction volume continue to grow. We've made investments that have brought down our cost to serve each household by 15% since 2014. These investments allow us to reach more customers at a lower cost and through the channels they prefer. More and more often, that channel is mobile.
Our active mobile customer base grew 11% since 2017, averaging a login rate of 15 times a month. And we have made it easy for customers who want to speak with someone by phone or in person.
Customers are doing more than 80% of their transactions on their own. This simple experience means customers who use mobile and digital channels are happier with us, tend to do more business with us and are more profitable.
Consumer Banking customers who have relationships with two or more Chase lines of business generate two and a half times more pre-tax income for us. That is because they have deeper relationships and also because they are often servicing their accounts digitally, which is more cost-effective.
For those customers who rely on branches, we are tailoring our physical network to match the service activity of each location. We have expanded into our new market locations using a combination of strategically placed full-service branches, smaller format branches and standalone ATMs – which can now support 74% of the transactions that once required a teller. We are committed to serving all households with these new branches, including ones with low to moderate incomes.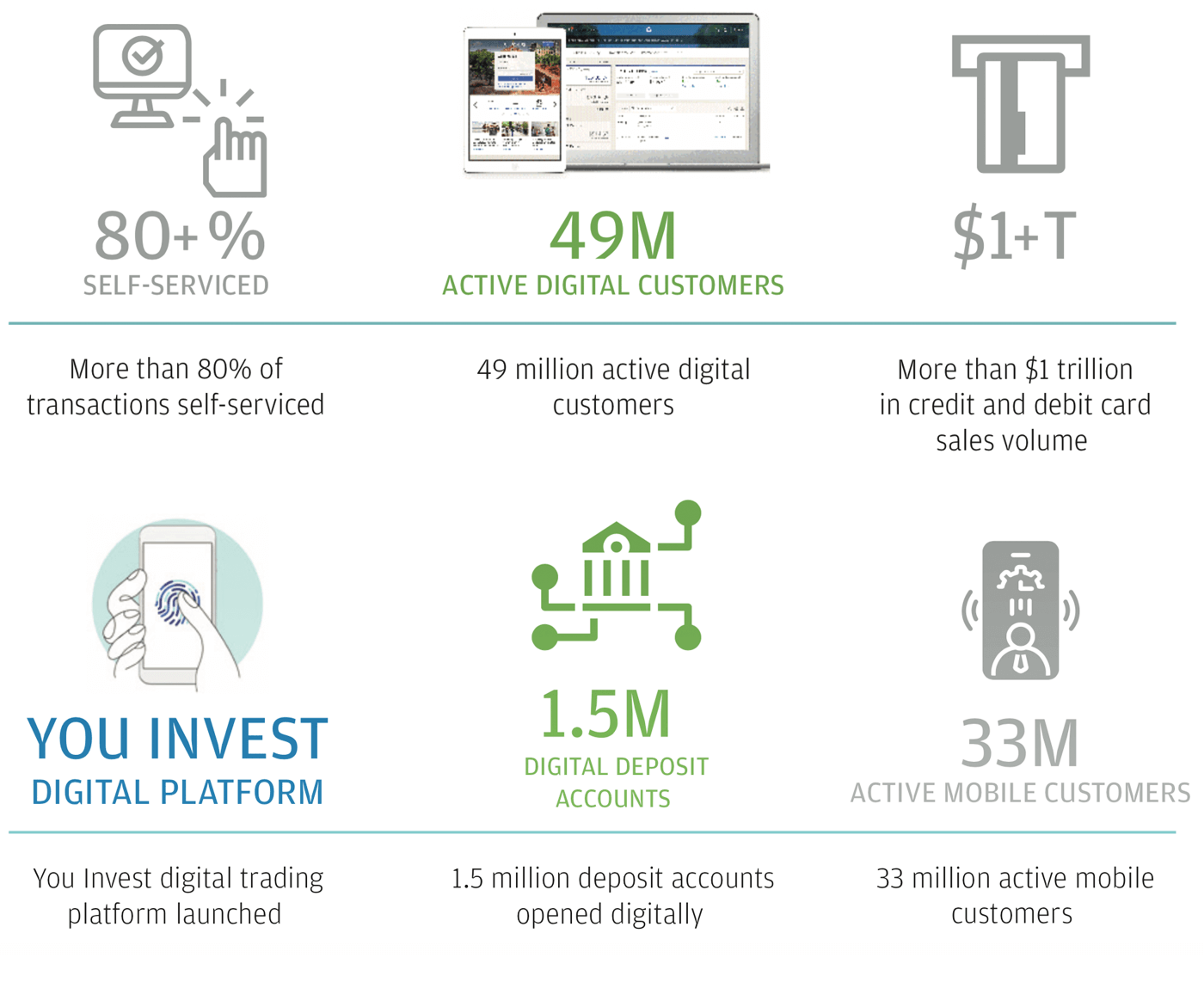 People
We are so proud of our team, 135,000 footnote1 strong. In the same way we focus on making experiences great for our customers, we also strive to do the same for our employees.
We have always believed our company has a role to play in society, leading by example in areas such as diversity. It's important to us that our employees represent the customers we serve. More than 57% of our employees are women, and more than half are minorities. Our employees who work directly with customers in our branches and call centers have higher minority representation than our senior executive positions, and we are working to correct that balance.
But we don't stop with our employees. We are leading initiatives to drive inclusive growth across the country, such as Women on the Move – which helps women overcome barriers they face at work and helps further female representation – and, most recently, Advancing Black Pathways, our effort to promote greater opportunities for black Americans to participate in economic success.
We are also mindful that the nature of our work is changing as we invest in technology that allows customers to manage their own needs. While we have hired 2,000+ more people in technology and digital roles, we have 7,000 fewer employees working in operational positions since 2014. We are committed to offering other opportunities and training to those employees who might need to find a new role – here at Chase or somewhere else.
Controls
Our customers rely on us to protect their data and their money. We take that responsibility very seriously. Therefore, we deploy many safeguards, checks and balances to make sure we do our work as effectively as possible. This helps us adhere to the many regulations and requirements that govern us. Upgrading and rigorously maintaining these controls is an ongoing discipline; we are proud of the work we do and will continue to improve.
Looking ahead — 2019
Becoming a customer — As we continue to focus on customers' needs in 2019, we will make it even easier to become a Chase customer and grow with us during a lifetime. Earlier this year, we created a product to meet the needs of the millions of U.S. households outside of the banking system – Chase Secure Banking. For a fee of $4.95 a month, people receive access to our branches, ATMs and mobile banking to make payments, deposit checks and send money, and they cannot overdraft.
We will also continue to expand to new markets. We expect 93% of the U.S. population to be in our Chase footprint by the end of 2022.
Paying with Chase — Our customers make more than $2 trillion in payments each year — whether they are shopping with one of our cards, paying a bill or paying another person. No matter the method, we want them to be able to do so with ease and confidence, as well as to realize the value of paying with Chase. In addition to the new customer–friendly features I mentioned earlier, we are upgrading our card chips to be "tap to pay"-enabled.
We announced two new features for our credit card customers coming later this year — My Chase PlanSM and My Chase LoanSM — to provide more ways to borrow using existing Chase credit card lines. When customers need to pay their Chase bills, they can set a fixed amount to pay automatically or pay at our ATMs.
Growing wealth — We want to help everyone make the most of their money, whether they need to build emergency savings to cover unexpected expenses, save for a home or invest. In January 2019, during National Savings Month, we introduced Auto Save, which allows our customers to set rules for how much to save based on milestones like receiving a paycheck or spending at a certain merchant. And every week, on average, we welcome 5,000 new customers to You Invest, our self-directed digital investing product.
Owning a home — We have made it simpler and faster for customers who want to work with us to buy their home. Our digitally enabled fulfillment process is more convenient than the paper process; it's 20% faster, can be completed online from anywhere and allows customers to monitor their progress through the process. Customer satisfaction is at record highs, but there is still room to simplify and improve.
Owning a car — Of the 62 million households with whom we have a relationship, roughly 1 million of them will buy or lease a car with Chase each year. We think we can do better than that by making the experience easier and adding value to the process — for our customers and for our dealer and manufacturer partners.
Growing businesses — As a firm, JPMorgan Chase can do more to support businesses than just about any other financial services firm. From sole proprietors, family-, female- and minority-owned businesses all the way to the largest global, multinational corporations, we help businesses manage the spectrum of needs, whether making day-to-day payments or financing growth. No matter the business, we are focused on ways to bring unique value to customers who do more business with us.
For our customers who process payments with Chase, we can offer same-day funding if they deposit those sales into a Chase Business Checking account. For a small business owner, same-day access to your sales can make a real difference.
Closing
I have never been more optimistic about our future. We are committed to making our business even better by serving more customers. The key to doing that is moving faster. We have made progress improving upon the pace we became accustomed to, but we still need to do better.
Members of my leadership team and I traveled to China at the end of 2018, and we were impressed by the speed at which companies function. Those we visited are using machine learning to open accounts in seconds or pay out claims based on smartphone images within hours. Seeing these capabilities only inspired us to move more quickly and push the boundaries of what we think we can accomplish for our customers and our shareholders.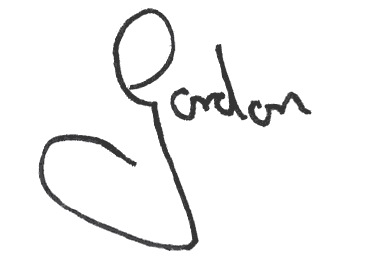 Gordon Smith
Co-President and Chief Operating Officer, JPMorgan Chase & Co., and CEO, Consumer & Community Banking
2018 Highlights and Accomplishments
#1 in overall customer satisfaction among national banks (J.D. Power)
#1 in primary bank relationships within our Chase footprint
The most frequently added new bank among small businesses that added another financial institution in the past year (Barlow Research)

footnote

2
Retail deposit volume growth at a rate more than twice the industry average since 2014
#1 most visited banking portal in the U.S. — chase.com
#1 U.S. credit card issuer
#1 U.S. co-brand credit card issuer
#1 in total U.S. credit and debit payments volume
Relief provided to customers affected by the California wildfires and the federal government shutdown