Asset & Wealth Management
In 2018, we marked the 10-year anniversary of the global financial crisis, emanating from the U.S., that shocked financial markets all around the world. Investors with the fortitude to remain steadfast on their long-term investing journey and withstand the tremendous volatility have been highly rewarded. But for many others in the decade since 2008, it has been difficult to endure the severe drawdowns and even more challenging to ever fully re-risk. 2018 didn't enhance confidence in markets either – for the first time in this century, cash was the only major publicly traded U.S. asset class to generate a positive return for investors.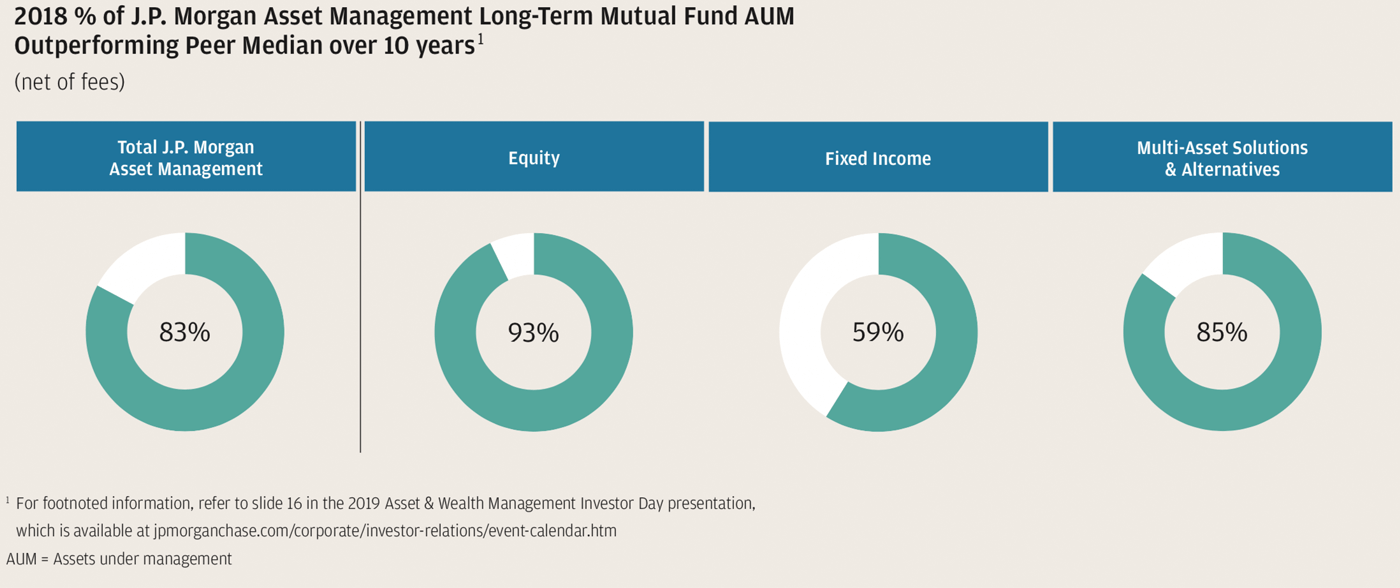 Fiduciaries since 1881
Reflecting over the past decade, I am proud of how our teams have helped clients – from those with a small savings account to the world's largest pension and sovereign wealth funds – navigate this volatile period. As stewards of wealth, we measure success by our ability to drive positive client outcomes over time, and we recognize the responsibility and privilege that come with serving as a fiduciary. Since launching our first investment product in 1881 – one that is still available today – our J.P. Morgan culture has remained committed each and every day to delivering to clients the strongest risk-adjusted investment returns we can uncover in the markets.

Strong investment performance
2018 marked another impressive year in investment performance versus our competitors, with more than 83% of our mutual fund assets under management (AUM) around the world outperforming the peer median over the 10-year period.
In 2018, we were recognized by Morningstar with five important ratings upgrades, representing almost $70 billion in client assets. Smart-Retirement was upgraded to Gold, making it the only active target date manager in the industry with a Gold rating. Global Allocation, Small Cap Equity and Growth & Income all were upgraded to Silver. Core Plus Bond was upgraded to Bronze.
Our impressive investment performance attracted $25 billion of net new asset flows in 2018, marking our 10th consecutive year of net long–term inflows and bringing the total assets entrusted to us to $2.7 trillion.
Importantly, our flows are not concentrated in any one asset class, region or channel but come from a well–diversified set of global businesses.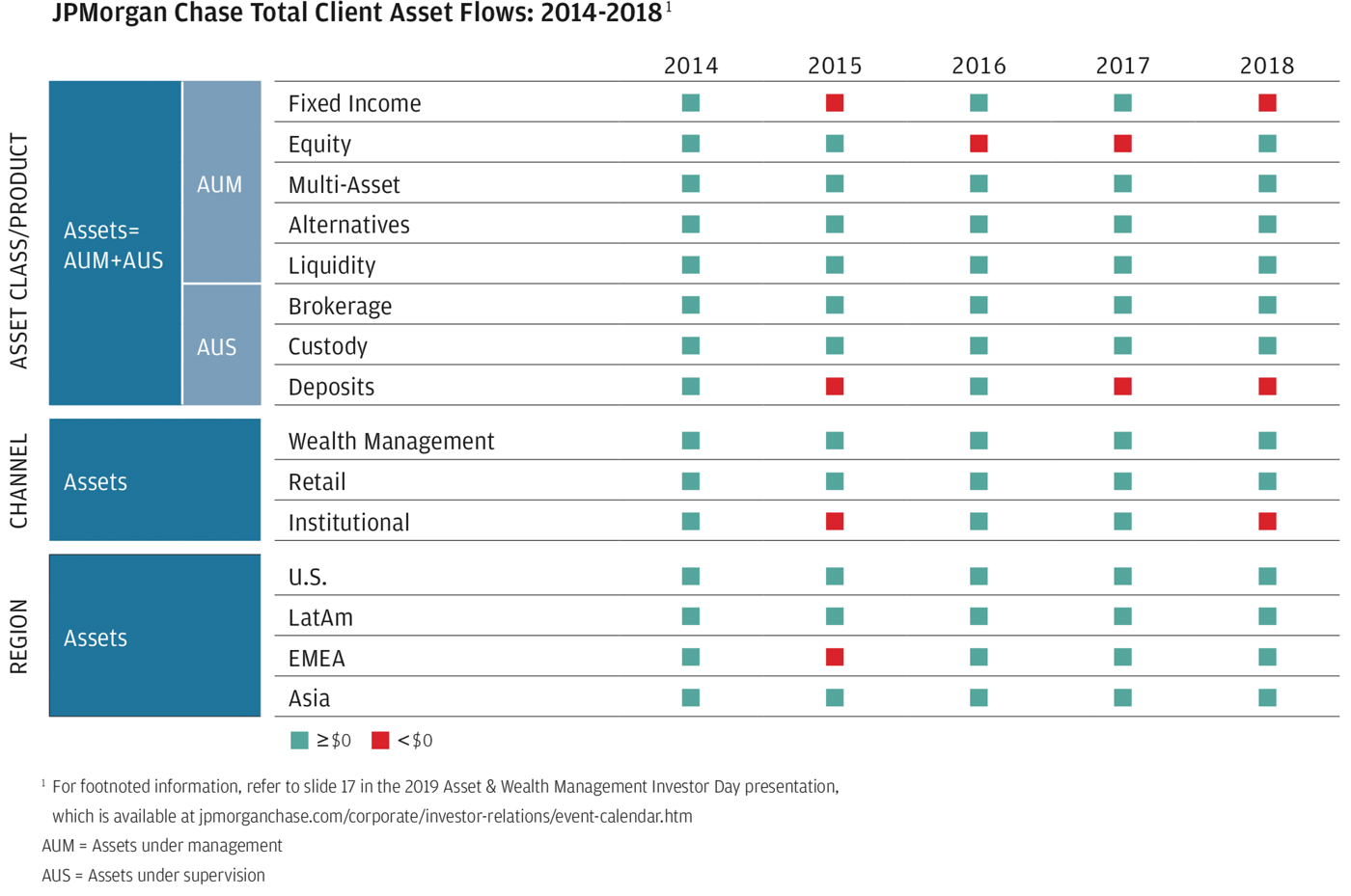 Consistent financial performance
When we focus on client outcomes, our own financial success follows. Record revenue of $14.1 billion and record net income of $2.9 billion enabled us to deliver a healthy 31% return on equity for our shareholders. As we continue to invest in the business for the future, our deeply embedded culture of risk management allowed us to do so while holding our net charge-off ratio to a very low 0.01%.
Top talent
Top talent is our single most important asset. We consistently attract, train and cultivate many of the top investment managers and advisors in our industry, proudly retaining more than 95% of our top talent over the last several years. In the Wealth Management space, we continue to broaden our coverage and are approaching nearly 6,500 advisors, located all around the world and close to where our clients need us most. We will continue to expand our footprint across the U.S. and other high growth areas such as China, where we can import our firm's expertise, as well as welcome new local talent into the J.P. Morgan family.
Product innovation
To help ensure we continue providing our clients with the solutions they need today and into the future, we are laser focused on innovating new products everywhere we do business. There's nothing we can't achieve when we put the resources of this firm behind an initiative, and these are only a few examples:
Beta/ETFs: : Just two years ago, we started building our Beta business. Today, we offer beta capabilities and exchange-traded funds (ETF) ranging from active to strategic beta and passive, with $43 billion in AUM. In 2018, our U.S. ETF business ranked #4 in industry flows, competing head to head with firms that have long led the rankings and were considered unassailable.
You Invest: Launched in 2018, You Invest has transformed the landscape for our retail clients. The easy-to-navigate user interface and the ability to access investments on the go have attracted a new generation of clients, 89% of whom are first-time investors with Chase. And that's only the beginning – later this year, we'll be rolling out our digital advice platform called You Invest Portfolios.
Digital everything: Our ability to connect with clients – however, wherever and whenever they need us – is paramount to our future success. Our goal is to deliver J.P. Morgan's expertise 24/7, worldwide. One example of a recent application we launched is Digital Portfolio Insights. This cutting-edge tool allows external financial advisors to access J.P. Morgan's proprietary risk management analytics to generate sophisticated and customized insights. In 2018, these advisors used the tool to help them build better portfolios for over 20,000 of their clients.
Simplify for growth
Our ability to innovate and to sustain our growth requires us to have rigorous discipline around business simplification. Over the past few years, we have merged or closed 229 funds while launching 125 new products; we have closed 21 front office locations in order to open 17 new state-of-the-art facilities; and we have decommissioned nearly 230 legacy system tools while delivering almost 280 modern technology applications straight to our clients and advisors. Our relentless focus on product and system optimization and continuous emphasis on cutting waste allow us to continuously reinvest in our future.
Fortitude
In this time of rapid change and competition, we are fortunate to be part of the broader JPMorgan Chase organization, where we all constantly challenge one another to use our expertise, scale and invaluable client base to continuously reimagine the future of how we serve our clients.
We have a proud legacy of doing first-class business in a first-class way, and we have extended that promise to institutions, central banks, sovereign wealth funds and individuals. It's our history and our expertise that give us the fortitude and vision to help our clients thrive in today's evolving market. No matter the speed or scale of change, our fundamental mission remains the same: We are relentlessly focused on driving toward the best client outcomes, and we believe that focus is the engine of our continued success. I couldn't be more proud of what we have delivered for our clients and our shareholders, and I have never been more excited for what is to come.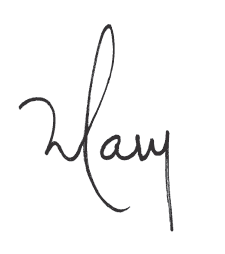 Mary Callahan Erdoes
CEO, Asset & Wealth Management
2018 Highlights and Accomplishments
Business highlights
10th consecutive year of net long-term inflows
Record revenue of $14.1 billion
Record net income of $2.9 billion
Record average loan balances of $139 billion
Record average mortgage balances of $41.5 billion
More than 83% of our long-term mutual fund AUM outperformed the peer median over the 10-year period
Retention rate of over 95% for top talent
Leadership positions
Best Global Provider of Short-Term Investments/Money Market Funds (

Global Finance

, March 2019)
Best Tech Innovation in Data Globally (

The Banker

, August 2018)
North America Asset Manager of the Year (

Reactions

, November 2018)
Asset Manager of the Year for Asia (

AsianInvestor

, June 2018)
Leading Pan-European Fund Management Firm (

ThomsonReuters/Extel

, June 2018)
Retirement Leader of the Year (

Fund Action

, June 2018)
ETF Issuer of the Year (ETF.com, March 2019)
Best Private Bank for Research & Asset Allocation Globally (

Euromoney

, February 2019)
Best Private Bank for Ultra-High-Net-Worth Globally (

FT/PWM magazine

, November 2018)