Consumer & Community Banking
When we planned for 2020, we could not have imagined the circumstances that would unfold. It was a challenging year for the world, for the country and for JPMorgan Chase. We are fortunate to be a part of one of the world's greatest companies. Our Consumer & Community Banking (CCB) franchise is resilient, and 2020 demonstrated that. Throughout the COVID-19 crisis, we supported our consumer and small business customers — and our employees — with compassion and flexibility.
Our performance in 2020 reflected the state of the broader economy and of our customers. While our deposit businesses were impacted by low rates and our credit card business was affected by lower spending, our Home Lending, Auto and Wealth Management businesses performed well. Despite many challenges, our largest businesses still reached notable milestones. For the first time, we led the nation in retail deposit market share at 9.8%. We maintained primary bank relationships with more than 75% of our Consumer Banking checking households. In Business Banking, we held the highest market share among all banks. We maintained our position as the #1 U.S. credit card issuer based on sales volume and outstanding balances. Home Lending originations reached their highest level since 2013. In the fourth quarter, we were ranked the #1 bank in auto lending. During the year, we also realigned and rebranded our Wealth Management business unit, J.P. Morgan Wealth Management, to capture the opportunity to help more customers manage their investments. We accomplished these achievements while responding to a global pandemic and continuing to invest in our businesses.
While we are proud of our accomplishments, we take nothing for granted and are intensely focused on our increasing and formidable competition, both traditional and new. I often remind the team of this wisdom from the late Andy Grove, former Intel CEO: "Only the paranoid survive."
Big Tech and fintech companies are competing with all of our businesses: offering new credit cards and banking services, demystifying stock and retirement investing, simplifying financing options for large purchases and making it effortless to send money – to a friend down the street or a family member in another country. Other companies are catering to business owners, making it easier than ever to start a business, accept payments, invoice customers and borrow money. These competitors start with the customer's pain points, obsess over them and strive to deliver a superb customer experience.
There are many examples of how these competitors have reset customer expectations with simple and easy digital experiences. As they build customer relationships, they also test, learn and develop new capabilities that customers want, try and adopt quickly. These companies release new features with urgency and grow their customer bases with speed. We are in a race to match their expertise in simplicity and ease of use before they can match our distribution and scale.
View Text Version ►
#1 in total U.S. credit card sales volume and outstandings
#1 in U.S. retail deposit share
More than 63 million U.S. households served
#1 most-visited banking portal in the U.S.
#1 primary bank within our footprint1
More than $1 trillion in credit and debit card sales volume
1: Chase is tied with one other bank for first place, as per the Kantar 2020 Retail Banking Monitor (~3,000 surveys per quarter or ~12,000 per rolling four quarters). Data are based on Chase footprint, excluding recent expansion markets.
2020 financial results
Consumer & Community Banking delivered a 15% return on equity on net income of $8.2 billion. Our $51.3 billion in revenue was down 7% year-over-year, while our overhead ratio increased to 55% as we continued to invest heavily for future growth. Our customer base was relatively stable with over 63 million U.S. households, including 4.3 million small business relationships.
Our average deposits of $851 billion were up 22% over 2019, and client investment assets reached $590 billion, up 18%. We ended 2020 with $448 billion in average loans, down 6%, reflecting the decline in credit card spend and loan balances during the year. Our customer base of active mobile users is the largest and the fastest growing among U.S. banks: 40.9 million, up 10% year-over-year.
We built our credit reserves by $7.8 billion in response to the pandemic's economic impacts. Losses did not materialize at the pace we expected in the early stages of the crisis; critical federal government support to consumers and small businesses provided a bridge to our customers; and, as a result, credit performance was better than we anticipated.
As in years past, our performance in 2020 resulted from our continued focus on four key areas: customers, profitability, people and controls. Below are some of the noteworthy accomplishments in each of these areas.
Customers
We supported our growing base of consumer and small business customers throughout the year in multiple ways:
1) direct relief, including payment deferrals and fee waivers, 2) facilitation of federal government relief and
3) commitments to advance racial equity in the U.S.
The firm provided customer assistance to approximately 2 million accounts with balances totaling roughly $83 billion. We facilitated federal stimulus payments to tens of millions of our customers. Through the Small Business Administration's (SBA) Paycheck Protection Program (PPP), we delivered firmwide $32 billion in loans to small businesses ($28 billion excluding SBA safe harbor refunds), more than any other lender on a dollar basis. No less than 75% of our branches continued operating throughout the pandemic. We also committed $30 billion across the firm to advance racial equity over the next five years, promoting and expanding affordable housing and financial health, among other initiatives. As an example, we will provide $12 billion in home loans for Black and Latinx households.
Customers continue to choose Chase — and stay with us — because of our best-in-class products and the value they offer. Still, we have an opportunity to improve the customer experience, particularly for those who use more than one of our products. Navigating across our products and channels can be disjointed. While we remove friction wherever we detect it, we must step up our progress toward simplifying the experience for our customers.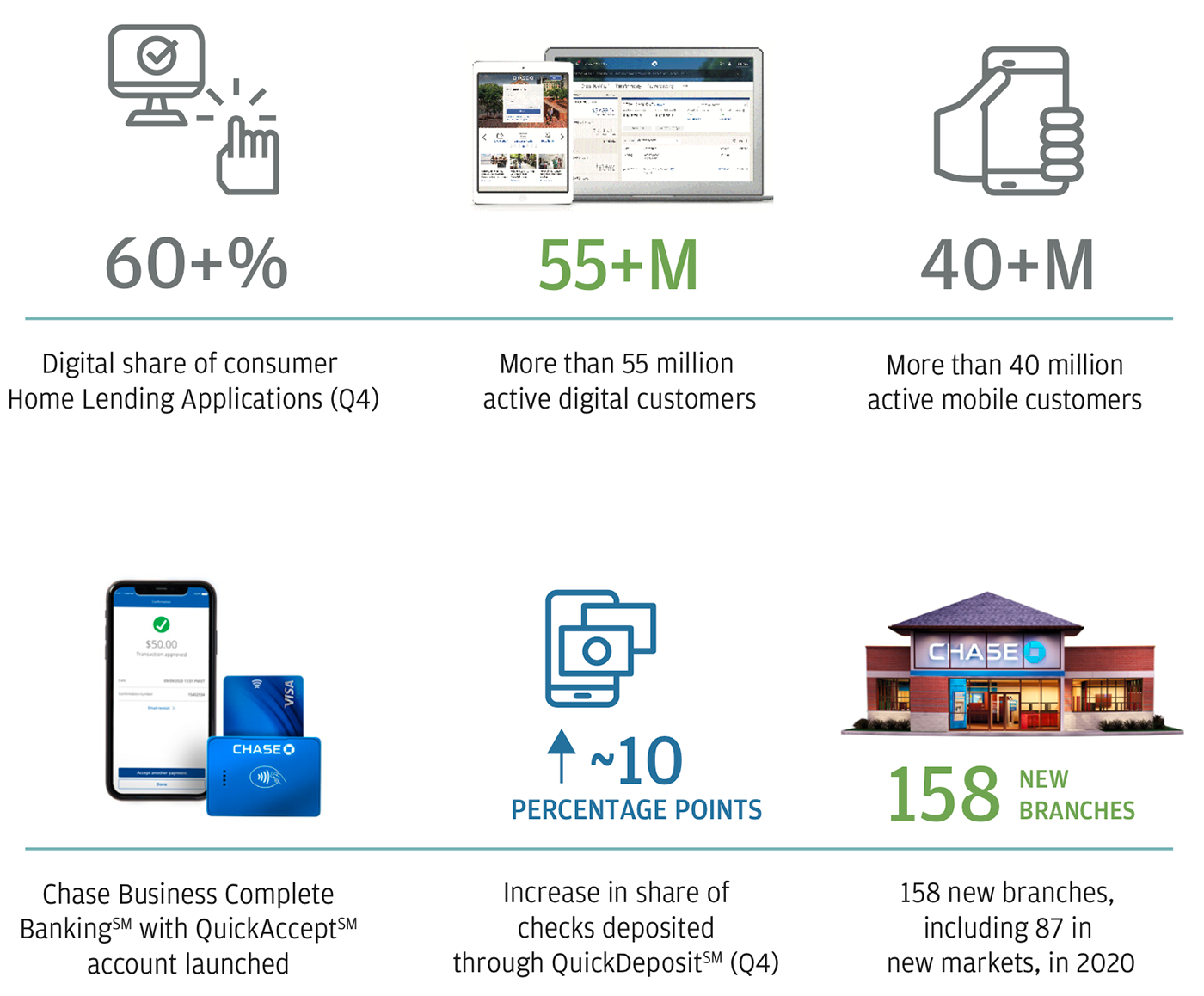 View Text Version ►
60+% Digital share of consumer Home Lending Applications (Q4)
55+M. More than 55 million active digital customers
40+M. More than 40 million active mobile customers
Chase Business Complete BankingSM with QuickAcceptSM account launched
Up ~10 percentage points. Increase in share of checks deposited through QuickDepositSM (Q4)
158 new branches, including 87 in new markets, in 2020
Profitability
We entered this challenging year in a position of strength and were able to adapt quickly, adjusting risk decisions throughout. While the events of 2020 interrupted the recent downward trend in our overhead ratio, they did not disrupt our focus on becoming more efficient and serving our growing customer base more profitably. We invest in our businesses to drive long-term, profitable growth — and one of the ways we have done that, over time, is by investing in efficiency.
Our digital and mobile capabilities are a great example. Digital adoption, including mobile, increased at an accelerated rate due to the pandemic. Overall, 69% of our customers are digitally engaged. Among Business Banking customers, that figure is 86%. During the pandemic, we encouraged — and drove — self-service to reduce the need to visit a branch or speak with us by phone.
We created new ways for customers to self-serve, including digital and interactive voice response tools, which we launched within days so customers could request help quickly. These tools also enabled us to serve a greater volume of customers and proved to be critical when so many of them needed us urgently and all at the same time. We also built a digital intake process and application for PPP loans in a matter of days and revised those applications as new SBA guidance or requirements evolved.
In addition to tools created to facilitate much-needed pandemic relief, we continued to release and refine digital features and capabilities so they could be used more widely by our customers. Our digital account opening product processed nearly 80% of all new accounts last April. We processed more than 40% of all checks through QuickDepositSM in the last quarter of 2020, up nearly 10 percentage points year-over-year. More than 60% of consumer home loan applications were opened digitally in the fourth quarter, a rate six times higher than the prior year. In addition, customers were able to dispute credit and debit card charges digitally. We also developed convenient, less intrusive and more effective ways to communicate with — and collect payments from — customers who fall behind. By updating our communication strategy and tactics, we reduced the time required to set up a payment plan and, as a result, doubled the share of digital payment plans year-over-year.
We continue to seek out opportunities to invest in future growth. In 2020, we saw such an opportunity and acquired cxLoyalty, a leading U.S. travel and loyalty business. We are optimistic that consumer travel will rebound after the pandemic. This transaction allowed us to upgrade our travel-focused credit card products so we can own the end-to-end travel experience. This offering also allowed us to address a pain point for our customers: Millions of travel plans were disrupted simultaneously at the start of the pandemic, and customers needed our help making adjustments.
While these investments drive returns, they also serve to position Chase as the financial partner of choice for all our customers. We want to build deeper, lifelong customer relationships that allow us to do more for them. When we already know a customer, we can make it easier to do more with us. For example, we can often pre-approve existing customers for credit and provide certainty of ultimate approval. We can verify income when deposit customers apply for a loan, prefill the information we have on file and so on. These stronger relationships also last longer and, as a result, are more profitable. As an example, deposit customers who also have a Chase credit card are almost 60% less likely to leave us than those without a card relationship.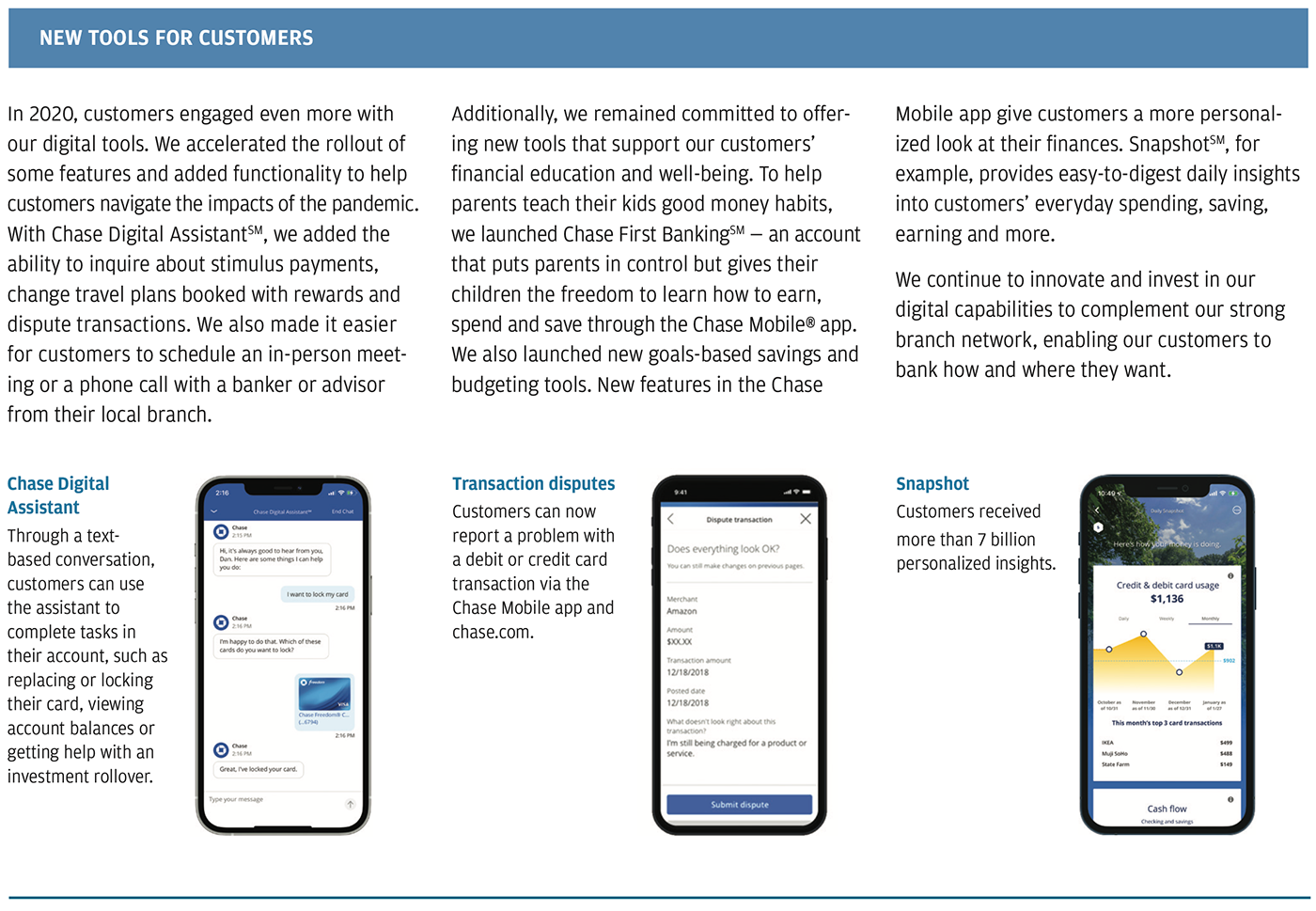 View Text Version ►
In 2020, customers engaged even more with our digital tools. We accelerated the rollout of some features and added functionality to help customers navigate the impacts of the pandemic. With Chase Digital Assistant, we added the ability to inquire about stimulus payments, change travel plans booked with rewards and dispute transactions. We also made it easier for customers to schedule an in-person meeting or a phone call with a banker or advisor from their local branch.
Additionally, we remained committed to offering new tools that support our customers' financial education and well-being. To help parents teach their kids good money habits, we launched Chase First Banking – an account that puts parents in control but gives their children the freedom to learn how to earn, spend and save through the Chase Mobile app. We also launched new goals-based savings and budgeting tools. New features in the Chase Mobile app give customers a more personalized look at their finances. Snapshot, for example, provides easy-to-digest daily insights into customers' everyday spending, saving, earning and more.
We continue to innovate and invest in our digital capabilities to complement our strong branch network, enabling our customers to bank how and where they want.
Chase Digital Assistant: Through a text-based conversation, customers can use the assistant to complete tasks in their account, such as replacing or locking their card, viewing account balances or getting help with an investment rollover.
Transaction disputes: Customers can now report a problem with a debit or credit card transaction via the Chase Mobile app and chase.com.
Snapshot: Customers received more than 7 billion personalized insights.
People
Our team of more than 122,000 continued to shine during this challenging year. I have such deep appreciation for everything they have done and continue to do for our customers, clients and communities each day. This is especially true for those on the front lines in our branches interacting with our customers face to face. Those who could work from home pivoted quickly to do so, and, after an adjustment period, most performed their job remotely as well as they had on-site before the crisis. Those who could not do their job remotely continued to serve our customers from our offices and branches, executing critical processes that kept our business running — generating cards for customers, printing statements, moving currency and much more.
We took additional steps to make sure our employees could work safely and to give them peace of mind during an uncertain time. All employees received extra days off to deal with impacts of the crisis. We distributed special payments to employees serving customers in branches and call centers, recognizing their exceptional contributions. Employees who worked in locations that were temporarily closed or had reduced operating schedules continued to be paid for full-time work. We offered alternative positions to those who were unable or unwilling to return to their pre-pandemic role. We also provided extra benefits for employees with children to help with childcare and education.
We have a sustained commitment to diversity and inclusion on our team. In 2020, we made progress toward establishing new representation goals. Our actions took on even greater meaning and importance amid our country's social unrest in response to profound racial inequalities.
Controls
Our customers rely on us to protect them, especially during a crisis. That responsibility guides all our work. We use many systems, processes and procedures to ensure we execute within all the laws and requirements that govern us. Crisis situations demand even more focus and attention so we can respond quickly but in a well-controlled manner. Where we miss the mark, we work tirelessly to address it so that we resolve issues and ensure they don't reoccur. We evaluate and upgrade these safeguards as an ongoing, evergreen practice.
Our resiliency planning is a key discipline we leaned on heavily throughout the year. Although we test and revise our resiliency planning annually, 2020 proved to be its greatest test yet. While we learned our limitations, we also discovered that we had underestimated what was possible out of our remote work capabilities. Providing work-from-home capabilities to customer service specialists — sending work-from-home technology kits to employees across the globe — is one such example.
Conclusion
We always aspire to be better, faster and more efficient. Customers expect it, competition is fierce and we take nothing for granted. We strive every day to improve and make it both simple and easy for customers to manage their finances with us. Despite the challenges of 2020 — some of which we still are facing — I remain hopeful and optimistic about our future. We demonstrated what we are capable of doing under the most trying of circumstances, and what we learned will continue to inspire us to achieve even more.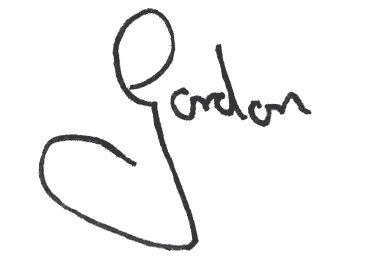 Gordon SmithCo-President and Chief Operating Officer, JPMorgan Chase & Co., and CEO, Consumer & Community Banking