Commercial Banking
This past year confirmed there is absolutely no limit to what our Commercial Banking (CB) team can accomplish when we work together. While 2021 showed signs of optimism, our clients continued to face uncertainty, confronting an ongoing pandemic, accelerated inflation, disrupted supply chains and tight labor markets. Through it all, we stood by our clients and communities, providing them with resources and expertise to best navigate these challenges.
2021 also marked another year of building for our future, investing in our capabilities for our clients, supporting our communities, and delivering strong growth and returns for our shareholders.
Delivering record financial performance
Highlighting the strength and potential of our franchise, CB delivered outstanding financial results in 2021, with record revenue of $10.0 billion, net income of $5.2 billion and a return on equity of 21%. These results are particularly notable as low market interest rates negatively impacted our deposit spreads and loan balances remained under pressure last year.
Despite challenging market fundamentals, CB's credit performance was quite strong in 2021, with net charge-offs of 4 basis points. Our consistent underwriting discipline and rigorous client selection continued to serve us well, and we are prepared for a range of potential economic outcomes.
Our firm's unmatched, broad-based capabilities remain a key differentiator and growth driver for our business. In 2021, investment banking was a standout example of this, with revenue increasing 52% to a record $5.1 billion. We also had a record year across CB in paymentsfootnote1, with revenue reaching $1.8 billion, up 15% from 2020.
While we are very proud of our financial performance, we are even more excited about the possibilities ahead.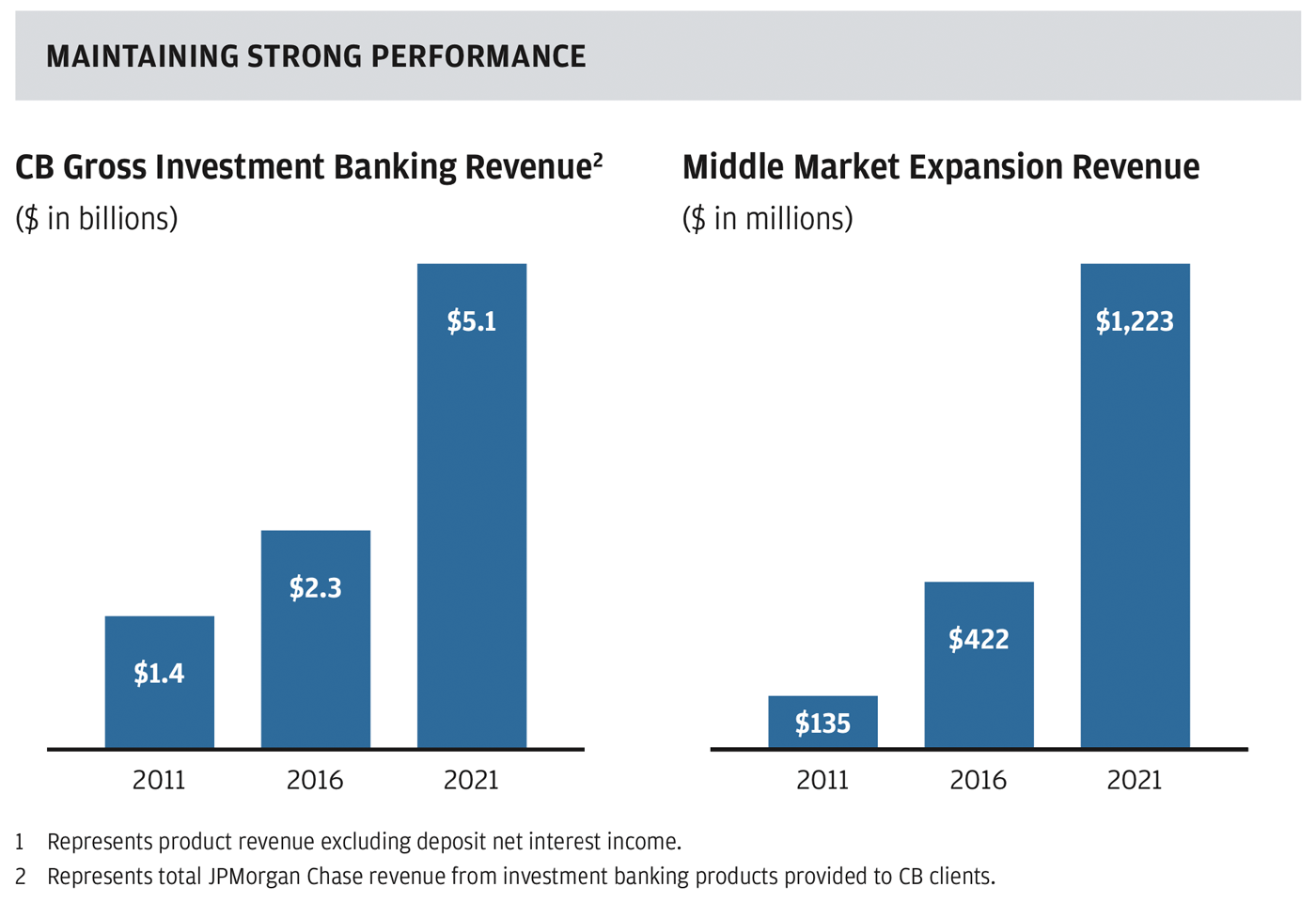 View Text Version ►
Commercial Banking Gross Investment Banking Revenue ($ in billions)
$1.4 in 2011
$2.3 in 2016
$5.1 in 2021
Middle Market Expansion Revenue ($ in millions)
$135 in 2011
$422 in 2016
$1,223 in 2021
Expanding our exceptional client franchise
The opportunity to invest and expand our client franchise is enormous, and we remain focused on executing our long-term, disciplined strategy to acquire more great clients and build deep, enduring relationships over time. With consistent investment, our addressable market continues to grow, and we are currently calling on almost 45,000 prospective clients.
CB's Middle Market expansion is a terrific example of recognizing a market opportunity and executing a data-driven, organic growth strategy. Since 2008, we have added over 500 bankers covering companies in 72 new locations across 22 states — essentially doubling our footprint in the United States. In 2021, this targeted effort generated $1.2 billion in revenue, with $19.5 billion in average loans and $34.8 billion in deposits.
We are also quite excited about expanding our client franchise internationally. Over the last three years, we've added about 50 bankers covering 19 countries, aligned to over 2,000 active and prospective clients. This is a natural extension of what we are doing today across the United States and builds upon existing, in-country capabilities and JPMorgan Chase's global platform. We are off to a great start — momentum is increasing, and we have a growing number of high-quality clients.
Across all of these markets, our clients expect us to truly understand their business and industry. Over the last decade, we have established 18 specialized industry banking teams dedicated to important sectors like government, healthcare and technology. More than half of our clientsfootnote3 are supported by our specialized bankers, and these teams provide deep sector expertise and deliver industry-specific solutions.
View Text Version ►
The Green Economy Banking team provides dedicated support to businesses focused on:
Efficiency Technology
Sustainable Finance
Renewable Energy
Agriculture and Food Technology
Clean Energy Mobility
By providing industry expertise, financing and investment banking services, CB is helping green businesses grow and catalyzing a more
Investing to deliver more value
Empowering our team
Simply having more bankers in more locations is not our only objective. It is the quality and impact of our team — along with the breadth of our capabilities — that allow us to develop long-term, valuable relationships with our clients. Today, our teams provide a growing range of solutions and solve complex technical problems for our clients. To further empower our bankers, we are making investments to ensure they are technically trained, data enabled and equipped with the most powerful digital tools.
Building a data-driven business
We have incredible data assets across our firm and have been investing in our foundation and capabilities to become a truly data-driven business. As a result, we now have a scalable, cloud-based data platform to deliver meaningful value across a range of applications.
These rich data assets bring predictive insights that enhance the speed and precision of our credit decisioning and portfolio management. We are also working on ways to provide impactful analytics and business forecasting and benchmarking to our clients. Our data capabilities further enable our bankers — informing them on market opportunities, client insights, product trends and pricing.
This focus has opened an exciting frontier for us. As such, we are increasing our investment in this differentiating resource and expect to see our data assets become even more valuable to our franchise and our clients.
Developing powerful solutions
Our clients benefit directly from our firm's leading digital and payments platforms. In addition, CB's treasury management and core banking capabilities are developed with a deep understanding of our clients' objectives and tailored to their specific needs.
We also have an incredible opportunity to add incremental revenue streams by delivering new, innovative solutions for our clients. For example, in Commercial Real Estate, we have been building a digital platform that allows our clients to more effectively manage their real estate assets, deploying data and analytics while digitizing and streamlining their rental payment activities. We are in the early stages of bringing this functionality to market, and client feedback has been terrific.
Strengthening our communities

View Text Version ►
$20B+ to vital institutions, such as hospitals, governments and schools
$20B+ to vital institutions, such as hospitals, governments and schools
$575M+ in New Markets Tax Credit investments
$350M+ to Community Development Financial Institutions
$100M+ to Black-, Hispanic- and Latino-owned or -led financial institutions
CB takes great pride in being an active and visible member in our communities. As our neighborhoods emerge from the pandemic, it's critical that they receive the appropriate support and resources they need to thrive. In 2021, we amplified our community impact work by further supporting vital institutions, strengthening diverse businesses and expanding affordable housing that our communities need now more than ever. I'm incredibly proud of our progress. Last year, CB extended more than $20 billion in credit to vital institutions — such as hospitals, governments and schools — that keep our communities healthy, stable and vibrant.
To help break down the systems that have contributed to widespread economic inequality — especially for Black, Hispanic and Latino people — last year we made equity investments of more than $100 million in 16 diverse financial institutions to accelerate growth in underserved areas. We also established dedicated banking teams to better connect diverse-, women- and veteran-owned businesses to the firm's full spectrum of resources to best support their success.
Availability of affordable housing is also crucial to combating the broader social inequities in our society. In 2021, our Commercial Real Estate team helped increase access to safe and stable places to live in underserved communities by providing over $13 billion in financing to create and preserve more than 100,000 affordable housing and rental housing units across the United States.
CB is committed to making a positive difference in our communities and advancing solutions that will drive real, sustainable progress for generations to come.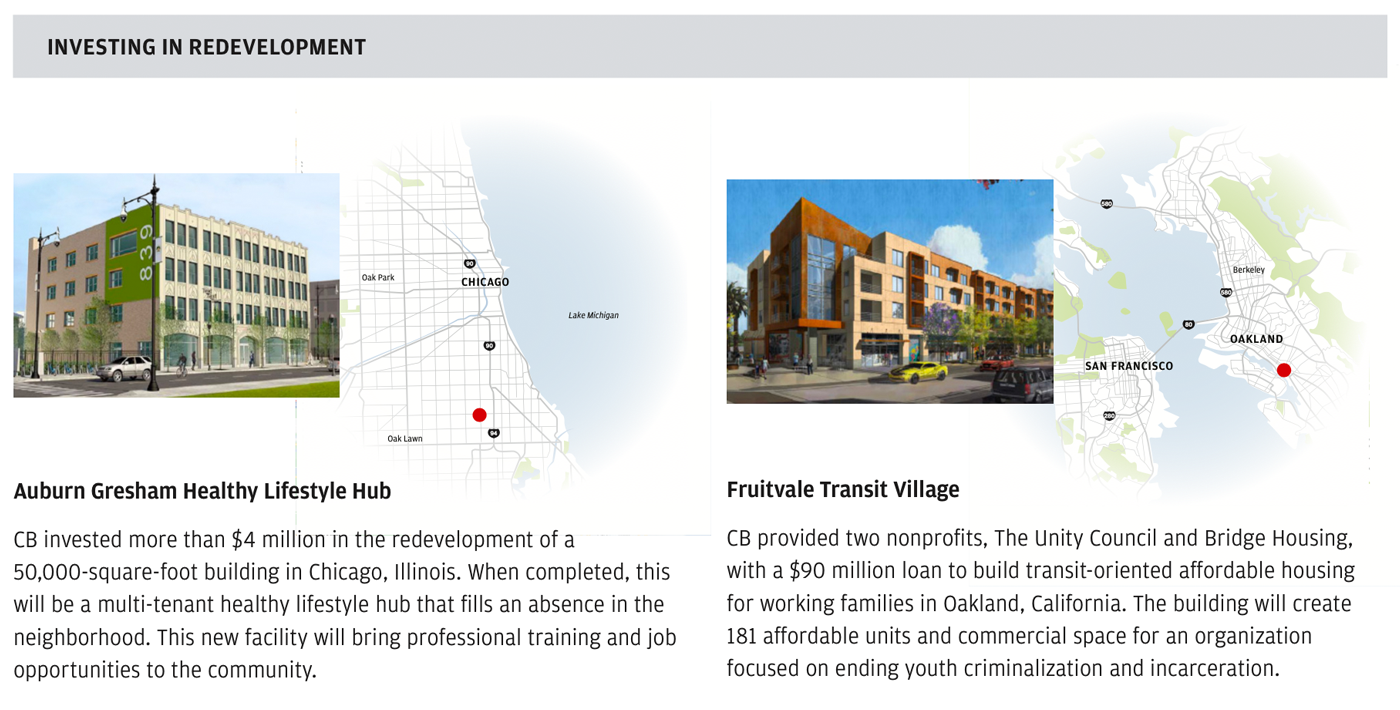 View Text Version ►
Auburn Gresham Healthy Lifestyle Hub
CB invested more than $4 million in the redevelopment of a 50,000-square-foot building in Chicago, Illinois. When completed, this will be a multi-tenant healthy lifestyle hub that fills an absence in the neighborhood. This new facility will bring professional training and job opportunities to the community.
Fruitvale Transit Village
CB provided two nonprofits, The Unity Council and Bridge Housing, with a $90 million loan to build transit-oriented affordable housing for working families in Oakland, California. The building will create 181 affordable units and commercial space for an organization focused on ending youth criminalization and incarceration.
Looking ahead
As we look forward, I've never been more optimistic about our business. We have an extraordinary team, unmatched capabilities, and an outstanding and growing client franchise. While the coming year will likely bring challenges and surprises — we are ready. With 2022 unfolding, we already see the benefits of being back together in the office and out in the local markets with our clients. The power of human connection is undeniable and is the foundation of our strong relationships with both our clients and our partners within the company.
The opportunities ahead for CB are tremendous, and we will continue to invest in executing our long-term strategy, always keeping our clients at the center of everything we do. Equally as important, we will continue to embrace our commitment to being a positive force in our communities.
I can't thank all of my colleagues enough for what they do every day to make our business so special. They are the source of my confidence in our future.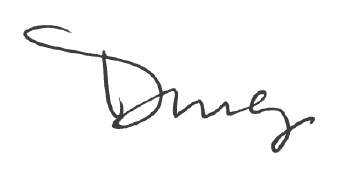 Douglas B. Petno
CEO, Commercial Banking